Indonesia election: why Prabowo Subianto is maintaining victory despite a likely win for Jokowi
Former military man Prabowo has rejected credible pollsters who've called the election for Joko Widodo. Is this a case of a general not knowing defeat?
A psychology expert says he might have 'delusions of grandeur' and worries Prabowo's supporters could be inspired to protest against the result
As hundreds of supporters amassed outside his home on Friday, presidential candidate Prabowo Subianto railed against the "lying pollsters" whose quick counts showed incumbent leader Joko Widodo, better known as Jokowi, would win a second term.
His team's count, Prabowo continued, based on a sample of votes from 320,000 – more than one-third – of polling stations nationwide showed that he and his running mate Sandiaga Uno had won 62 per cent of the popular vote. It was his third declaration of victory since Wednesday's election, when some 150 million Indonesians cast ballots for their new president and legislators for local, regional and national parliaments.
"Do you believe survey institutes? No. They are liars, the people do not believe them," the 67-year-old former three-star general said to the crowd, who were mostly men affiliated with hardline Muslim groups.
"Maybe they have to move to other countries. Maybe they should move to Antarctica so they can lie to penguins instead. Hey survey organisations, you are liars and the Indonesians do not want to hear from you again!"
In stark contrast to Prabowo's fire and brimstone spiel, Jokowi acknowledged his win subtly. He stopped short of owning his triumph on Thursday, saying he had seen the quick count results that pointed to his winning and that Malaysia, Singapore, and Turkey's leaders had called to congratulate him. A quick count by pollster CSIS, for example, shows Jokowi leading with 55.6 per cent to Prabowo's 44.4 per cent.
Political psychology experts said Prabowo's declaration of victory seemed to be a last-ditch attempt to cling on to a hope of power. It was unlikely he would be able to run in the next election in 2024, given his age and the entrance of new candidates.
This election was his third attempt at high office – he competed on a vice-presidential ticket in 2009 but failed, and lost to Jokowi by six percentage points in the 2014 poll.
"I think that Prabowo has a big need for power. He sees himself as a leader, from his time in the military where he had recorded achievements and where he was a commander," said political psychology academic Andik Matulessy of the University of 17 Agustus in Surabaya, East Java.
Matulessy said Prabowo's experience as a military commander – he graduated from elite US army training programmes at Fort Benning and Fort Bragg – had probably shaped a belief that power was everything.
"In military it's killed or be killed," Matulessy said. "Hierarchy is also clearly drawn in the army."
Prabowo also comes from an elite political family – his father was one of Indonesia's most prominent economists and served in the cabinets of former presidents Sukarno and Suharto. The latter's daughter Titiek became Prabowo's wife, and while the pair have split up, she supported him on the campaign trail.
But Prabowo was discharged from the military after Suharto fell in 1998, and has since been dogged by allegations of human rights abuses during the chaos that led to the end of the strongman's rule.
Another psychologist said that Prabowo was showing delusions of grandeur, believing he had superior qualities that qualified him for a position of greatness, such as leading Southeast Asia's largest economy worth US$1 trillion.
"I am actually not surprised that Prabowo declared victory despite contradictory quick count results," said University of Indonesia psychology professor Hamdi Muluk. Ahead of the 2014 presidential race, he surveyed 204 psychologists on the personalities of Prabowo and Jokowi.
"We found the delusion of grandeur tendency in Prabowo's personality, where he sees himself as a great figure, so it is shocking to him when he incurred a loss," Hamdi said.
He noted that individuals who suffered from cognitive, confirmative, and salience biases, tended to focus on items or information that were more prominent – such as the large size of a campaign rally – rather than the fact that there were millions of others who might not be there.
"Prabowo might think that all of Muslims in Indonesia support him this time since he has gathered support from some Muslim clerics such as Abdul Somad," Matulessy said, referring to a popular cleric that is a central figure in the country's "hijrah" movement of born-again Muslims.
"But he neglected the fact that Muslims come in many shape and forms, including those belonging to [Indonesia's biggest Muslim organisations] Nahdlatul Ulama and Muhamadiyah," he said, referring to the groups that are known to be more moderate.
Hamdi said he believed Prabowo would eventually accept that he had lost the election.
"But the problem lies with his supporters. They may not understand … and may be provoked by claims that they have been cheated. This is worrying and problematic."
Prabowo and his supporters are sticking with their claims of massive electoral fraud, saying the vote counting process was flawed, particularly in Central and East Java where Jokowi posted a landslide victory of 77.23 per cent and 65.9 per cent respectively, according to the quick count by pollster CSIS.
Pollsters said Prabowo and Sandiaga were leading in 14 out of 34 provinces – four more than in 2014 – including in the populous areas of West Java, Banten, and South Sulawesi.
Irfan Aulia Syaiful, a psychology lecturer at University of Mercu Buana in Jakarta, who is also member of the Prosperous Justice Party in Prabowo's coalition, claimed the pollsters should process their quick counts for Central and East Java again.
"They need to reassess on-the-ground [reality] in this election. I'm seeing myself how enthusiasm for Jokowi has dwindled compared to five years ago, and it's actually greater towards Prabowo, so, qualitatively speaking, the race should be won by Prabowo."
Irfan said that he would believe the quick counts if the gap between the two pairs of candidates was 3 per cent. He insisted Prabowo's declaration of victory was part of a "psychological war" between him and Jokowi.
Jokowi's speech did not show he was a victor and Prabowo's statement was "based on accurate detail from the field".
"I don't agree that Prabowo is delusional, he is the type of person who needs to see information and data before he believes it," Irfan said.
The experts suggested the best way for Indonesians to come together would be if its new leader and his opponent remained "calm and humble".
In Prabowo's case, it was important for his subordinates to not be "yes-men" as that would cause more chaos.
"True statesman will only say that they are president after their inauguration," said Hamdi.
"I think it's best for those close to Prabowo to remind him not to provoke his supporters to carry out a people-power style of revolution or jihad and to stick with the constitution. Let him and him alone have these delusions of grandeur."
sumber: South China Morning Post

Upil 🍀
@adawiyahriwan
A psychology expert says he might have 'delusions of grandeur' and worries Prabowo's supporters could be inspired to protest against the result. Why Prabowo insists he has won Indonesia's presidential election
sc.mp/2ivg

Rid
@fariidmusthofa

deffen
@dceffen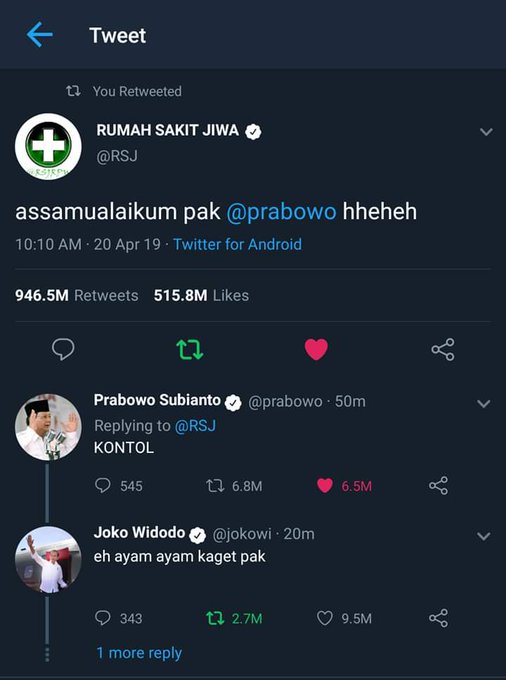 Expand pic