Pengikut PewDiePie Indonesia meretas papan harga pom pensin.

miiya ミイヤ 🍰 🏳️‍⚧️ (COMMISSION SLOTS OPEN 2/4)
@PearlteaRizzy
Indonesian gas station sign was hacked by PewDiePie fans 👌 pic.twitter.com/W8AGA5LSc8
19/12/2018 16:41:26 WIB

Michael
@tfmy2012
@rizzydraws Thank you Indonesia, very cool.
19/12/2018 16:56:06 WIB

Farsa
@ThatManFarsa
@rizzydraws the indonesian 9 year olds are doing their part
19/12/2018 18:21:21 WIB

Chris
@Chris66985844
@AstrocatSSB @KawaDrive @ThatManFarsa @rizzydraws Actually their 9 year olds with 5 bonus years
20/12/2018 05:48:07 WIB

floont🏳️‍⚧️
@floonty
@ThatManFarsa @rizzydraws we are 14 now
19/12/2018 20:20:08 WIB

Ivan Vela 🦊 | ASTR#509
@not_Astrocat
@KawaDrive @ThatManFarsa @rizzydraws Damn, fourteen 9 year olds are lot, we need more
20/12/2018 05:06:39 WIB

K4SET The Lyricist
@KingK4SET
@rizzydraws I see, Indonesia is joining the revolution.
19/12/2018 16:42:29 WIB

papahkevia
@thegr8_8
@rizzydraws Yes, Indonésia did their part. Very nice. pic.twitter.com/lQg0FCAhTn
20/12/2018 08:31:52 WIB

Andy the Ayylien
@AyylienInvader
someone had a fucking "subscribe to @pewdiepie" sign at #WWETLC pic.twitter.com/0RIcNtijEY
17/12/2018 07:49:19 WIB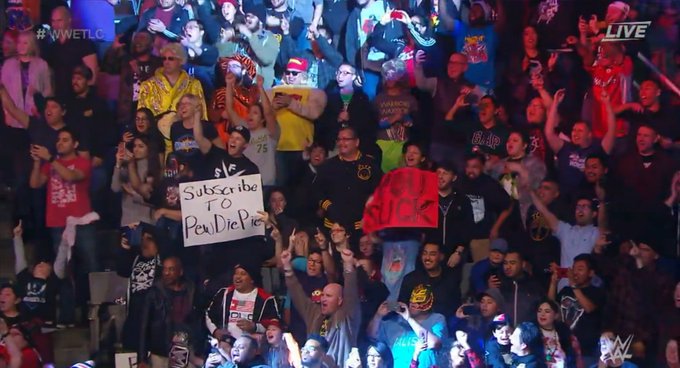 Expand pic

Coconuts Jakarta
@CoconutsJakarta
What's happening in Jakarta | Sister sites: @Coconuts_Bali @CoconutsBangkok @CoconutsManila @CoconutsHK @CoconutsKL @CoconutsSingapore

Coconuts Jakarta
@CoconutsJakarta
"Subscribe to PewDiePie" has invaded Indonesia coconuts.co/jakarta/news/s…
17/12/2018 17:22:34 WIB
"Subscribe to PewDiePie" has become a meme since last month, when hackers who claim to be fans of the Youtuber claimed they hacked around 50,000 printers around the world to print posters bearing the message. While there was no way of knowing the exact number of printers that were hacked, people around the world, such as from the UK, US, Spain, Chile, Argentina, and Australia reported that their printers churned out pro-PewDiePie messages.
The meme is likely a retaliation by PewDiePie's legion of devoted fans against Youtube for the platform's failure to include the Swede in the annual "Youtube Rewind" year-in-review video for two years running, as well as to keep PewDiePie on top of the most subscribers list on Youtube with Indian Youtube channel T-Series fast closing in.

URL
Coconuts
'Subscribe to PewDiePie' meme lands in Indonesia with hacking of gas station price sign in East Java
Should we 'Subscribe to Pewdiepie'?
55

elle
@LaKooKoo
@CoconutsJakarta Subscribe to Pewdiepie
19/12/2018 11:54:32 WIB

Marc Jacobs
@indorover
@CoconutsJakarta Well, the National Police has a Computer Crime Unit. Now they have something to do. Good luck.
17/12/2018 17:41:07 WIB