dwi rahayu
@dwirahayu7313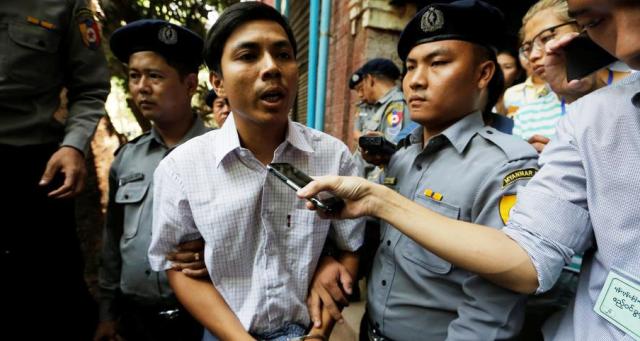 Expand pic
Koran Sulindo – Sekitar seratusan orang aktivis berkumpul di Yangon, Myanmar untuk memeringati penahanan 2 wartawan Reuters. Dalam aksinya itu, para aktivis saling bergantian berorasi dan melepaskan balon.
Adapun 2 wartawan Reuters yang diputus hukuma penjara 7 tahun itu adalah Wa Lone, 32 tahun dan Kyaw Soe Oo, 28 tahun. Mereka dinyatakan bersalah oleh pengadilan pada September lalu karena terbukti melanggar Undang Undang Rahasia Negara.
Kasus tersebut memunculkan pertanyaan tentang arah demokrasi Myanmar dan mendapat kecaman dari para aktivis hak asasi manusia. Merek – para aktivis – itu terdiri atas mahasiswa, wartawan dan penulis serta mengenakan kaos bertuliskan "jurnalisme bukan kejahatan" dan "bebaskan Lone dan Kyaw Soe Oo".
Mereka juga menyalakan lilin dan mengheningkan cipta untuk kedua wartawan itu. Beberapa para aktivis itu tampak membawa majalah Time dengan sampulnya menunjukkan bahwa Lone dan Soe Oo termasuk "Person of the Year" dari sederatan wartawan di dunia.
Baca Selengkapnya : https://koransulindo.com/aktivis-ham-myanmar-demo-peringati-setahun-penangkapan-wartawan-reuters/