Wajah-wajah berprestasi di balik "ava Korea".

josephine
@shitgarette
Y'all think K-Pop fans are alay and stupid when in fact K-Pop changes our life in sooo many ways. And of course, it's a good change.

josephine
@shitgarette
Oh, and check out @/behind.thefandom on Instagram, fellas. There, you can see how much K-Pop has changed people and opened the path to their career. twitter.com/jailhouserrroc…

/krt/ - ON | abis kelock gais. ayo kirim menfess
@koreanthingy
/krt/ nih ya mereka yg dibelakang ava korea itu gak semua bocah, mereka juga semuanya orang-orang hebat pic.twitter.com/6PyLKWZxsh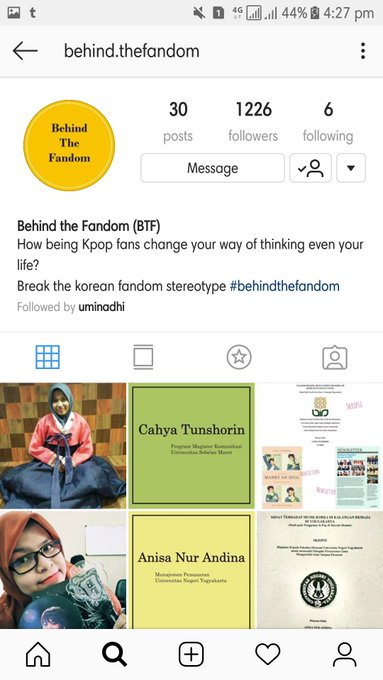 Expand pic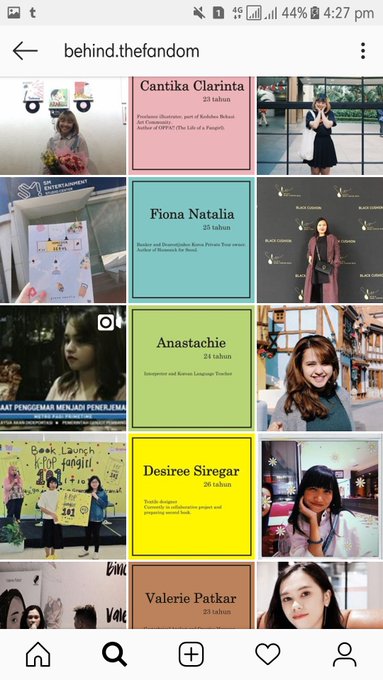 Expand pic

nade
@tofucircle
Expand pic
Expand pic
Expand pic
Expand pic

+ ThisClownIsHappy +
@justtbebe

melisa 🍑 강다니엘
@salmonenak
@koreanthingy
setelah liat mau nangis.. apa yg bisa ku banggakan dalam diriku.. masih mencari dan terus berusaha.

☀️🐰
@southkyurea
Proyekan dari @andihaname.
---

hana
@andihaname
@Saryulyul selamat siang kak. Maaf mengganggu, mind to open your dm? Saya nemu twitter kakak dari survey skripsi tentang kpop milik kakak dan kebetulan saya lagi bikin sebuah project :)

Sarah Yuli Yanti
@Saryulyul

hana
@andihaname
@Saryulyul Namanya behind the fandom kak. Kakak bisa cek ignya behind.thefandom Itu adlh project kecil2an saya yg isinya mengkompilasi sisi lain kpop yg jarang orang2 ketahui. Nah utk selengkapnya mungkin saya bisa dm kakak?
Beberapa postingan dari akun @behind.thefandom.
---