Angin kencang sedang melanda Mekah.

MALIK
@Malik__Abbas
So there is a sand storm happening here in Mina and part of our tent looks like it's about to collapse...........
20/08/2018 01:55:02 WIB

MALIK
@Malik__Abbas
The winds from this storm in Mecca totally split the cloth of the Kaaba SubhanAllah. It also flooded Arafat and Muzdalifa the 2 places we are heading next☺
20/08/2018 12:35:08 WIB

ahmad
@ibnZoldyck
guys the winds in Mecca have removed the cloth of the Kaaba SubhanAllah
20/08/2018 01:22:46 WIB

Umarfaruk
@UmarfarukSadik
The wind blows the Qiswah (covering cloth of the Ka'bah) revealing the second door of the Ka'bah that was built by Abdullaah bin Al-Zubair which was subsequently ordered closed by Hajjaaj bin Yusuf when the Ummayyad Dynasty took control of Makkah. pic.twitter.com/xxZH3W7vZs
20/08/2018 03:22:18 WIB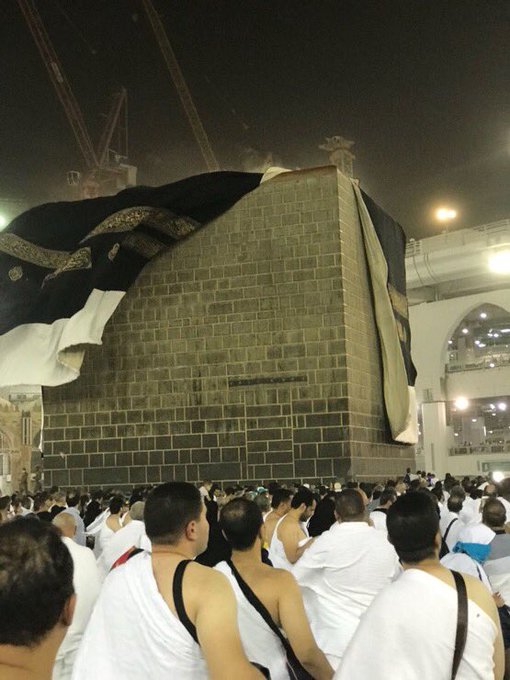 Expand pic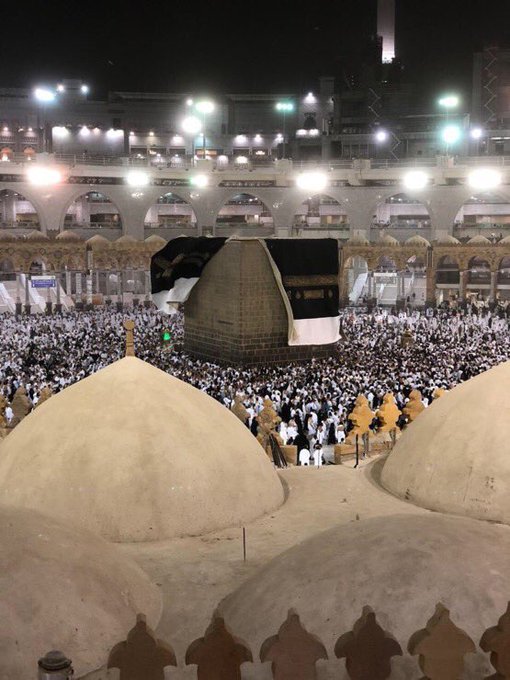 Expand pic

Channel Islam Int
@channelislam
Shukr the strong winds has subsided in #Makkah #Mina #Arafah this video was taken about an hour ago #Hajj #Hajj2018 #hajj1439 pic.twitter.com/eO8XcqyQaw
20/08/2018 02:02:39 WIB

Dr Rachel Woodlock
@rachwoodlock
@FrontlineHitmen @UmarfarukSadik Subhanallah that's not something you'll see everyday!
20/08/2018 12:37:12 WIB

_
@partialninja
@UmarfarukSadik Wow. I never knew that it existed! Was there any reason why they closed it? Was it built before or after Rasulullah's SAW's death?
20/08/2018 04:19:29 WIB

iwan
@Iwanjsx
@partialninja @UmarfarukSadik It should be after Rasulullah era.
20/08/2018 05:09:28 WIB

Wibu Darurat
@ALtheDiscreet
Abdullah bin Zubair bin Awwam, anak dari Zubair bin Awwam dan Asma binti Abu Bakar Ash-Shiddiq. Khalifah yang terlupakan. Hajjaj bin Yusuf, panglima Bani Umayyah yang memerangi ibn Zubair. Dan tidak segan-segan memborbardir Kabah dengan Manjanik. twitter.com/UmarfarukSadik…
20/08/2018 10:57:43 WIB

FOA
@alagakemi
@UmarfarukSadik I never knew this. Thanks for the information. Subhanallah.
20/08/2018 12:08:35 WIB
Angin kencang sedang melanda Mekah.
---

Rozin
@kangrozin
Strong winds in Muzdalifah, Mecca. Terrifying. pic.twitter.com/DLAXq48QvG
20/08/2018 12:15:26 WIB


TRT World Now
@TRTWorldNow
In Mecca, winds and heavy rain have greeted some of the early Hajj pilgrims arriving in Mount Arafat pic.twitter.com/WqUStx0Ctd
20/08/2018 11:25:34 WIB