Sebelum ramainya foler "Hoes Hoin" yang tersebar, tahun 2017 Amerika juga pernah digegerkan dengan skandal yang sama,
Baru-baru ini beredar skandal folder "Hoes Hoin" yang berisi 267 foto telanjang diduga para wanita anggota korps militer Amerika Serikat. Dalam folder Dropbox yang bernama "Hoes Hoin", ada 267 gambar secara keseluruhan dan tiga subfolder untuk kategori perempuan tertentu

Story


Skandal Folder "Hoes Hoin", Bocornya 267 Foto Syur Tentara Wanita Amerika yang Bikin Geg..
Sebanyak 267 foto tentara perempuan Ammerikaberedar di internet
26209

pv
1

.
@KLB904
"Hoes hoin" lol pic.twitter.com/Tlxh79DjlT
10/03/2018 21:46:24 WIB
Expand pic

Natalie Dunn
@candyforkeeps
"According to Vice News, "Hoes Hoin'" contains 267 images, with three subfolders for specific women. The majority of the photos reportedly feature women wearing military clothing, while some even show the women's faces or name tags."
11/03/2018 01:30:45 WIB
Ini merupakan kedua kalinya Marinir AS berurusan dengan skandal foto telanjang. Tahun lalu, laporan Pusat Investigasi AS mengungkapkan kasus kelompok rahasia Facebook bernama Marinir United. Grup ini memiliki lebih dari 30.000 anggota. Ratusan hingga ribuan gambar telanjang dibagikan yang membuat Kongres harus mengeluarkan undang-undang tentang penyebaran gambar intim yang tidak pantas pada Desember 2017.

Awalnya, grup Facebook 'Marines United' yang disetting privat, dibentuk untuk menjadi komunitas bagi marinir, baik yang sudah veteran ataupun masih bertugas. Namun, grup ini mendadak jadi panas ketika sekian tentara pria mengunggah foto-foto seksi kolega wanita mereka. Sebanyak 97 marinir yang terlibat dalam skandal itu juga telah diadili. Dana sebesar 18 juta dollar AS atau Rp 247 miliar dikucurkan untuk menangani skandal foto telanjang agar tidak tersebar lebih luas.

URL
Sidomi News
Grup FB 'Marines United' Sebar Foto Bugil Tentara Wanita AS, Pentagon Murka!
Grup FB 'Marines United' menjadi tempat penyebaran ratusan foto bugil tentara wanita Amerika Serikat. Skandal besar ini menjadi aib yang langsung direspons oleh Departemen Pertahanan AS, atau lebih jamak disebut Pentagon. Menteri Pertahanan Amerika Serik
2

CBS News
@CBSNews
CBS News has learned that more explicit pictures of female service members have been posted online without their permission; the "Marines United" scandal involved 131,000 photos spread across 168 social media sites. pic.twitter.com/Q2iGGLKIVc
10/03/2018 06:44:04 WIB

RECornwall MA BD PhD FRSA ن
@CornwallRE
Useful for PSHE: More nude photos of female military personnel shared online, 1 year after Marines United scandal rt.com/usa/420935-nud… pic.twitter.com/9gsGXu4u1d
11/03/2018 02:27:02 WIB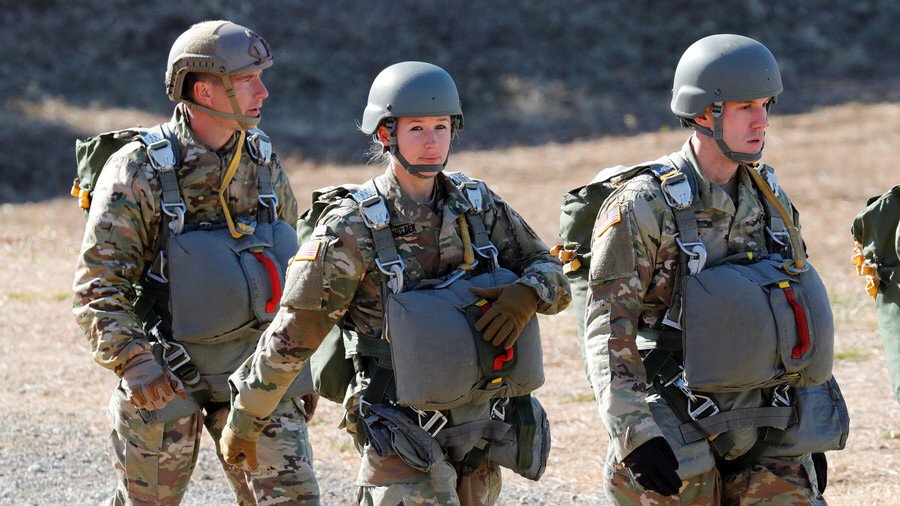 Expand pic

Mary Walsh
@CBSWalsh
One year after the Marines United scandal DOD is investigating new porn site w/ hundreds of explicit photo of female military members @CBSEveningNews @USMC @NotInMyMarines
10/03/2018 06:19:14 WIB

Sara 🎈
@_better_off_red
@CBSWalsh @NotInMyMarines @CBSEveningNews @USMC The problem is this isn't new. This is known at the highest levels and they continue to do nothing.
10/03/2018 21:32:08 WIB

Shalaine Bright
@shalaine_bright
It's been one year since the U.S. Department of Defense started investigating Marines who shared naked photos of more than two dozen servicewomen on a Facebook group of 30,000 members called Marines United.
11/03/2018 04:59:21 WIB

Shalaine Bright
@shalaine_bright
Now, the military is dealing with another case of nonconsensual revenge porn: A Dropbox folder has reportedly been circulating on social media with hundreds of explicit photos of women in the military.
11/03/2018 04:59:21 WIB