Extinct Animals🦖
@StrangeAndLost
Madtsoia is an extinct genus of madtsoiid snakes. Which lived approximately 90 million years ago. It was first discovered during the 1930.
pic.twitter.com/4cTPqG8KEk
Expand pic

✝️
@ForTheLord4Ever

NaNa 🌈
@NalaniNavarro

Karen Jones
@firec3
@StrangeAndLost
@Paw_Stories
You're sure there's not some still lurking somewhere? Looks like an Amazon area type of snake. They keep finding things they "thought" were extinct.
Gambarnya kurang akurat? (keterangan tentang Madtsoia tapi gambar ularnya bukan Madtsoia? Well, kurang yakin juga, sepertinya twet itu ambil gambar dari sebuah post di Imgur berikut.)

Madtsoia
Madtsoia would be the worst nightmare of anyone with a phobia of snakes. Although only fragmentary remains are known, it is claimed to have reached the immense length of 15-20 meters! This creature appeared in the Cretaceous period and possibly dined on dinosaurs. It was similar to today's boas and pythons in that it was not venomous, but rather squeezed its victims to death using its immense muscular strength.
Wikipedia hanya menggambarkan fosilnya saja

URL
Wikipedia
1
Madtsoia
Madtsoia is an extinct genus of madtsoiid snakes. It is known from the Eocene (Casamayoran and Itaboraian) of Argentina (M. bai), the Paleocene of Brazil (M. camposi), the Late Cretaceous (Campanian) of Spain (M. laurasiae), the Late Cretaceous of India (

Kirstin Berry
@pups_n_blues
Expand pic

É sério isso?
@rafael_cssantos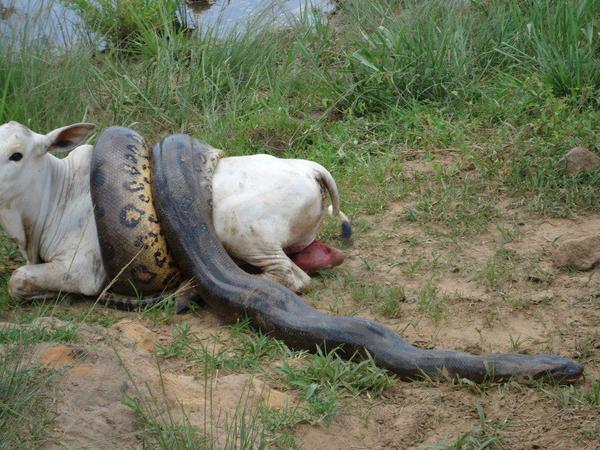 Expand pic

Marcelø
@Marcelofvs

Tolu Richards
@tolu_richards

Story

Buaya vs. Hiu?? Siapa yang Menang????
4307

pv
7
1