TI SMKN 1 PEKANBARU
@official_TISmea
Motherboard bisa dicuci atau enggak ya ??

Rangifertarandus
@ran9ifer

Expand pic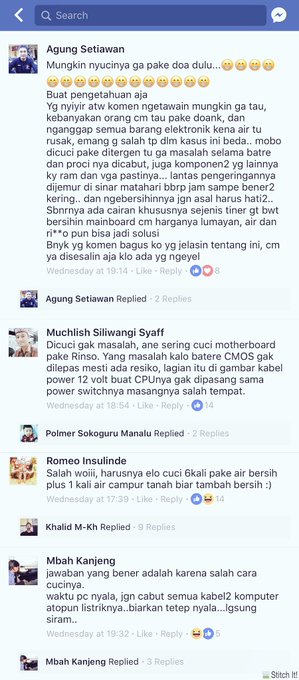 Expand pic
Ternyata bisa kok!

Best Answer:
Yes you can. I will blow it off with air, safer. When I was gaming hard core, 1998 to 2000 full time, my computer was at my friends house, we had 5 to 8 or more gaming computers hooked up together, great times. Any how when our gaming came to an end, I took my computer apart and it was filthy, grime, dust etc.. So Took it a part, filled sink with dish washing liquid and warm water, submersed main board fan all, and used new clean paint brush to wash off grime, then rinsed main board in warm water. Then I got blow dryer and dried off main board. then every day for a week, rotate main board front to back, to make sure all water is dried off, could even leave it by window in sun. Then after a week put your computer back together, if it was working before it still should. OH and make sure you take out battery on main board. Any how I still have this computer working and with main board, and it stills looks like brand new main board. I am not responsible to any damage if you try this, but I have, and it worked. If it is not that bad, use compressed air. How ever you can wash it. My original CPU fan was washed still on mother board and cpu, and they still work, over 9 years since I washed it, ASUS Main Board. Replaced hard drive in that gaming rig 5 times, lots of gaming. I also washed the video card too, 3Dfx Voodoo 3 2000, it is still working as well, even today, great card back then. Oh and I have 5 newer gaming rigs, that I still use, and if they need main board cleaning, not a problem...

Fachri Nurrahmadi
@575_Ari
Baru tau kalo VGA / mobo bisa dicuci pake rinso/sanlek atau apalah itu

Den Lulung
@denlulung
dulu pas masih smk magang di reparasi komputer. diminta bos nyuci motherboard. "kalo dicuci apa ndak rusak, pak?" "tidak"

nish
@Nishion
Mobo pc lama gw jaman kul perna sengaja dicuci sm kakak gw,mgkin krn kotor ngadatlah dy. Stelah seminggu dipake lg bae2 aja tu.

......
@omJe_
Ternyata motherboard komputer bisa dicuci pake air rinso! besok gw bawa ke laundry aja ah biar lebih bersih.

Briandika Mahendra
@briandika
tambahin molto biar wangi RT
@kakangAzruck
: Mobo setelah dicuci+rinso+jemur 3 hari,,jadi cakep :))
Ternyata yang penting ga boleh basahin power/baterai dan harus kering secara tuntas!