Chirpified
Akhirnya Catherine Olek, pembuat video bully yang diplagiat Afi Nihaya angkat bicara. Menjelaskan dari awal Kenapa ia membuat video itu hingga mengontak Afi, ia juga klarifikasi bahwa ia tidak berteman baik, tidak sering kontak dan tidak kenal dekat dengan Afi Nihaya

Aulia Hafidz
@Afidzman
Gak jera2... Video klarifikasi. CAtherine Olek (xcatlo) m.youtube.com/watch?feature=… fb.me/81LpmEcgR
26/07/2017 20:02:47 WIB

Aku Ora Urusan
@AkuOraUrusan
Namanya Dicatut Afi Nihaya, Catherine Olek Angkat Bicara. Untung Zaman Sekarang Gampang Klarifikasi dlvr.it/PYfYBb pic.twitter.com/7rljOfKWEu
26/07/2017 20:24:20 WIB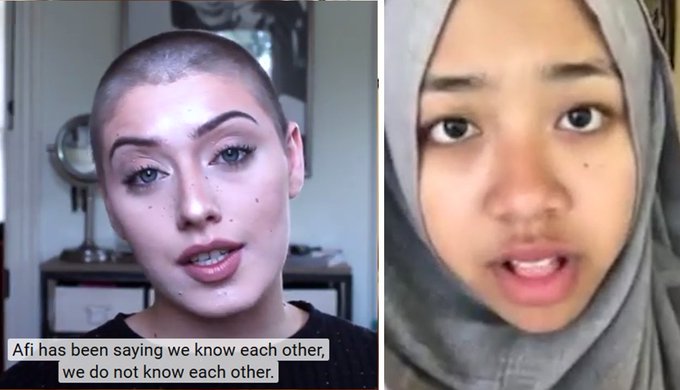 Expand pic

Tᴜᴀɴ Mᴜᴅᴀ
@teazmee
Ini si Api kenapa lagi sama ini bule😂😂cc: @oji_sakura @kifli127 @nay_shihab @RestyCayah @maspiyuuu pic.twitter.com/HCK0XF5v6N
26/07/2017 21:36:44 WIB

kคຖງ วคkค
@jakalalana
@TeukuAzmi17 @oji_sakura @kifli127 @nay_shihab @RestyCayah @maspiyuuu Afi...Afi.. ngakunya kenal sama bule, bikin video bareng nyatanya.. ngibul lagi.
26/07/2017 21:44:02 WIB
Merasa Catherine tidak paham kenapa banyak yang membully Catherine, ada netijen yang menjelaskan:
long.haired.rapunzel Talking about her mental state, let me clarify this. She started getting a lot of attention from Indonesians since her "inspirational writing' went viral. The president of Indonesia invited her to the presidential place because of that. Since then, a lot of notable figures spoke up that Afi should be a role model for Indonesian youth. She started doing interviews and stuff like that. Everyone admired her. She started writing again and again and people found out that more than 4 of her writings were similar to the old posts on blogs which were written by others. Turned out, she had done plagiarism even before her writing went viral. So that means she enjoyed copying off other people's writings. Everyone was demanding an apology from her and calling her names and stuff like that. The stuff people wrote to her made her went to a psychiatrist. She was in denial of what the psychiatrist said to her because she was said to have negative personalities
komen netter lainnya:
media_rakyat212 @afi.nihayafaradisa KETAHUAN LAGI PLAGIATMYA
tya92_ Hahadeuh. Mending hdp mah biasa2 aja. Semakin terkenal mkn repot. Apalagi terkenalnya bkn krna prestasi mah 😂
ratnatjan23 Shame on you afi
adiartanti duh dedek afi kok ga ada kapok2nya :(
arifrahmann35 I'm so glad you make this video,

Peter
@PeterAliman
Jangan memberikan Sanjungan Berlebih... udah ada contoh Afi tukang plagiat Jangan Bikin Orang FAMOUS di Twitter Mungkin dia lagi DRAMA pic.twitter.com/BfoqVG03kM
27/07/2017 10:03:14 WIB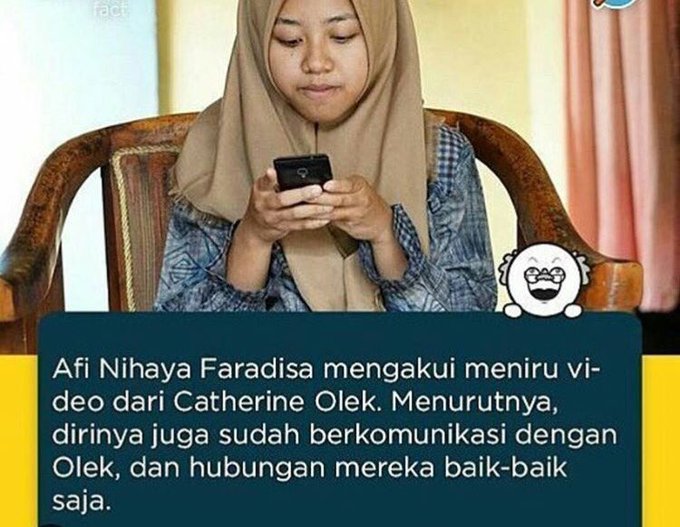 Expand pic

bukan anak SMA
@HasniarRofiq
Lagi viral di TL FB gue, video Afi ttg bullying yg plagiat bule anon. Well, mereka yg komennya jahat, sama buruknya dgn plagiarisme Afi...
09/07/2017 21:27:45 WIB

ZMS™
@zhaaams
@ferdiriva bingung mau komentar apa, jadinya kasian ama dia. ☹️
10/07/2017 13:22:45 WIB

Dlh
@NFadhilaahh
Sedang ramai video Afi yang kembali dianggap plagiat. Kalo memang itu benar, bukankah pengalaman itu guru terbaik? Terus berkarya ya, dik😓
08/07/2017 16:36:42 WIB