Terbakarnya Grenfel Tower di London pada pagi hari bertepatan dengan waktu sahur para Muslim di London.
Kesigapan para pemuda Muslim London di peristiwa kebakaran Menara Grenfell mendapat sorotan dari media.
---

URL
www.facebook.com
The Deen Show
Muslims fasting for Ramadan and saving lives but why isn't the Mainstream Media reporting on when Muslims help save lives This woman tells her story of life & death & how Muslim men & woman rushed to...

Splinter
@splinter_news
Muslims up early for Ramadan were among the first to respond to the deadly London apartment fire: pic.twitter.com/zeNCcDwWfx
15/06/2017 19:45:05 WIB

BBC News (UK)
@BBCNews
Humraz Khan rushed to help as the London fire raged. He was awake because of Ramadan and filmed what he saw pic.twitter.com/yKWA5nIzki
15/06/2017 05:01:00 WIB

💜 Kirsty Ann💖
@PandaEyesKirsty
@BBCNews People like Humraz & the others in the community that have been helping & being supportive that make me proud to be British #GrenfellTower
15/06/2017 05:09:19 WIB

ElizabethR 👑
@ElizabethRBess
@BBCNews He only mentions being Muslim to explain why he was awake (i.e. Ramadan).He showed amazing humanity &that's all that matters. God bless him🙏
15/06/2017 08:17:27 WIB

BBC News Indonesia
@BBCIndonesia
Anak-anak Muslim yang bangun sahur menggedor pintu-pintu dan jadi 'penyelamat' kebakaran apartemen London bbc.in/2stjq74 pic.twitter.com/CbsNcgVb9b
15/06/2017 03:59:54 WIB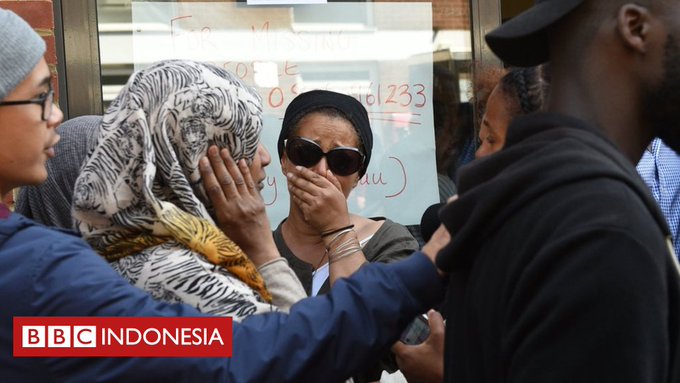 Expand pic

Amelia Suandi
@amelia_suandi
@BBCIndonesia "Byk yg mengecam komunitas Muslim ketika ada insiden yg menodai komunitas. Tp ktika mereka melakukan kebaikan, tak ada yg memberi perhatian"
15/06/2017 07:09:46 WIB

Amelia Suandi
@amelia_suandi
@BBCIndonesia "Saya mendengar orang berbicara tentang keajaiban Ramadan dan inilah dia."
15/06/2017 07:10:55 WIB

Republika.co.id
@republikaonline
Penghuni Apartemen di London Terbantu Muslim yang Sahur rol.co.id/r/orjlbl
14/06/2017 22:05:28 WIB

Imanuel M Anie
@imesh68
@republikaonline Inspiratif. Kita saling membutuhkn, jd sudahi isyu2 yg memecah belah. Kita jg bisa menghadapi situasi ini & orang lain yg membantu kita
15/06/2017 18:45:27 WIB

Imanuel M Anie
@imesh68
@republikaonline Thk, mengajar kpd kt utk rendah hati, jgn smbong & jgn anggp rendah suatu agama atau suatu kaum, sekecil apa pun dia, lihat contoh mulia ini
15/06/2017 18:28:15 WIB