Jadi, Team Pornhub atau Team XVideo?
XVideo: Hey, Pornhub, kenapa sih kamu selalu mencoba membuat orang lain terpuruk? Brengsek kamu dan aturan tipu-tipu yang kamu buat ini. Kamu cuma ingin mengalahkan kami XVideo.
Aturan penggunaan yang dibuat Pornhub memuat satu opsi, bahwa jika opsi ini dipilih, maka pengupload video setuju Pornhub menjadi pemilik dari semua konten yang diupload, baik itu konten di MASA LALU maupun konten di MASA DEPAN. Dengan menjadi pemilik dari konten-konten tersebut, maka Pornhub akan memiliki kekuasaan untuk mencabut atau menuntut pencabutan konten-konten milik pengupload yang diupload di situs besar lainnya (dengan terang menyebutkan nama XVideo).

XVIDEOS
@xvideoscom
Hey @Pornhub why do you always have to try and push others down? Fuck you and your scams and tricks. Desperate to beat XVIDEOS. pic.twitter.com/a58bxC24aa
24/11/2016 21:26:11 WIB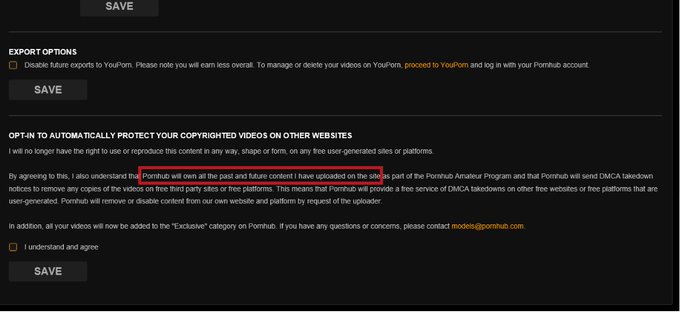 Expand pic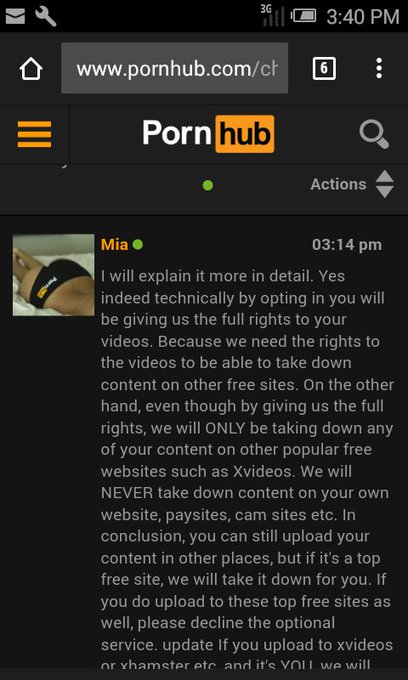 Expand pic
Pornhub: kami mendapat banyak permintaan dari para pornstar kami untuk mencopot konten mereka yang dicuri dan diupload di situs-situs seperti kamu. layanan yang kami sediakan ini semata-mata hanya untuk melindungi mereka.

Pornhub ARIA
@Pornhub
@xvideoscom we got many requests from our models to remove stolen content from xvideos, this service protects them. There's no trick or scam
30/11/2016 00:40:50 WIB
XVideo: mengatakan bahwa kamu melindungi mereka adalah tipuan belaka, karena nyatanya kamulah yang akan jadi pemilik konten mereka. kamu hanya ingin menipu pemula yang tak teliti membaca.

XVIDEOS
@xvideoscom
@Pornhub Saying you protect their content is a trick because it became YOUR content. You are just scamming amateurs who don't pay attention.
16/12/2016 00:02:10 WIB
Pornhub: kamu ngga bisa baca? aturan itu sifatnya optional. kalau mereka mau konten mereka ada di situs kamu, mereka ngga akan pilih option itu.

Pornhub ARIA
@Pornhub
@xvideoscom Can you read? This is a free option (opt-in) service to remove their stolen content on xvideos and other tubes.
16/12/2016 00:13:40 WIB

Pornhub ARIA
@Pornhub
@xvideoscom If they upload their content to your site, they don't opt-in, it's very simple.
16/12/2016 00:14:04 WIB
XVideo: kamu lakukan ini hanya untuk menjatuhkan pesaing kamu. yang diimpikan tiap pornstar yang sedang menapaki karir adalah konten mereka dilihat sebanyak mungkin.

XVIDEOS
@xvideoscom
@Pornhub This is a "service" to hurt your competitors and nothing else. The best interest of aspiring pornstars is to be everywhere.
16/12/2016 00:37:32 WIB
Pornhub: masa? bagaimana mungkin itu menjadi "impian" jika konten mereka "dicuri"? ini ngga ada hubungannya samasekali dengan persaingan bisnis.

Pornhub ARIA
@Pornhub
@xvideoscom How is it in a model's best interest to have their stolen content on Xvideos? It has nothing to do with competition.
16/12/2016 01:10:07 WIB
Xvideo: mereka ngga akan bisa upload konten mereka di situs yang lain, karena berdasarkan aturan kamu, kamu juga akan memiliki konten-konten yang mereka buat DI MASA DEPAN.

XVIDEOS
@xvideoscom
@Pornhub They can't upload to us once they have checked that box because you own all past and future free uploads.
16/12/2016 01:12:33 WIB
Pornhub: karena itulah aturan ini sifatnya optional. kalau mereka ingin mengupload konten mereka di situs seperti kamu, mereka ngga akan pilih opsi ini.

Pornhub ARIA
@Pornhub
@xvideoscom which is why it's optional? They don't opt-in if they upload their content to other websites like your own.
16/12/2016 01:17:44 WIB
Masalahnya ada di kalimat "Pornhub akan menjadi pemilik konten Anda, baik konten yang SUDAH maupun AKAN dibuat." bodoh banget kalau sampai ada orang yang milih ikut aturan ini.

PhillyRon
@Philly_Ron
@DirtDogzz @xvideoscom @Pornhub problem with the language is all previous content. If they consent to that, they dumb as hell.
09/01/2017 02:33:31 WIB

Young Nick
@000_1219
@xvideoscom @Pornhub two porn sites beefing lmao pic.twitter.com/VrEzZJLP2M
09/01/2017 05:18:13 WIB

Nobody Cares, Work Harder!
@Sir_Chubs
@xvideoscom @Pornhub wowww porn sites beefed out on a Sunday, pic.twitter.com/1BL3ZY3ri7
09/01/2017 03:47:39 WIB
Expand pic

MercedezUAZ
@MercedezUAZ
To see @xvideoscom and @Pornhub Twitter beefin on a Sunday just shows that the devil is so busy
09/01/2017 00:58:44 WIB