Baru baru ini salah satu TV nasional dari Maroko menyiarkan cara menyembunyikan tanda kekerasan dalam rumah tangga menggunakan make up bagi wanita


AJ+
@ajplus

Ben Phillips
@benphillips76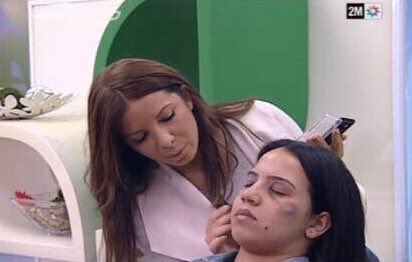 Expand pic

CaLi-Bano 🇽️3️⃣
@CurioGorilla
Dalam tayangan tersebut, terlihat si pemandu acara memperagakan cara menyembunyikan bekas memar pada wajah dengan menggunakan make up
Hal ini sangat ditentang oleh masyarakat dunia


Charlene White
@CharleneWhite
This is astonishing. A Moroccan TV show aired a segment showing women how to use make-up to hide domestic violence bruises. No words.
twitter.com/curiogorilla/s…

Rad
@sb93108
"How to use make up to hide injuries caused by domestic violence" This is in a moroccan morning tv show, which's controlled by government.
twitter.com/aidaalami/stat…

Adam K Olson
@adamkolson
Dengan menayangkan hal seperti itu, sama saja dengan mendukung adanya kekerasan dalam rumah tangga pada wanita

WayneDavid81
@WayneDavid81

Fancy Beer
@compotus
@guardian
Do they have a similar show for their husbands "How to hide a corpse"?

Juana Bimba
@sirimba
@guardian
🇨🇺Next time you get beat up, just pull a veil over it, and wear sunglasses,too.

Tiger Lily
@hanxkiara
Why are women being taught to wear make up to cover up domestic violence? Don't make me feel sick. This is NOT okay.😑
Berita terakhir, pihak channel tv tersebut sudah memberikan pernyataan maaf dan klarifikasi mengenai tayangan tersebut