"Fidel Castro is dead!" tulis Trump di halaman twitternya
@tumbenlucu
Pada tanggal 26 November, Tokoh revolusi Kuba telah wafat di usianya yang ke 90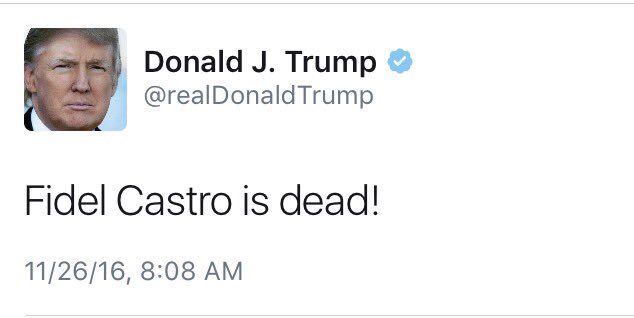 Story

Fidel Castro, Pemimpin Revolusi Komunis Kuba, Telah Meninggal Dunia
Berita duka datang dari Kuba, pemimpin revolusi komunis Kuba, Fidel Castro telah meninggal dunia di usia 90 tahun.
2474

pv
21
3

Story

Fidel Castro Meninggal Hari ini, Ini Foto-foto Soekarno dan Fidel Castro yang Berteman B..
Ternyata Fidel Castro dan Presiden Soekarno saling kenal dan berteman baik
4325

pv
36
35
Di hari wafatnya FIdel Castro, Presiden AS terpilih yang baru, Donald Trump mengirimkan sebuah twit


Donald J. Trump
@realDonaldTrump
Fidel Castro is dead!
26/11/2016 20:08:11 WIB
Hal ini menjadi perhatian masyarakat media sosial

CBS This Morning
@CBSThisMorning
President-elect Donald Trump's reaction to the death of Fidel Castro: pic.twitter.com/J4pCBqL77n
26/11/2016 20:18:31 WIB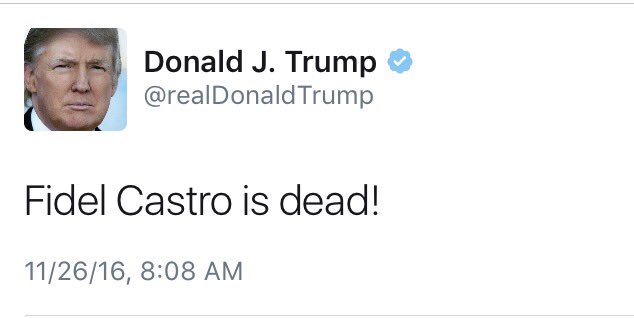 Expand pic

CARNAGE
@djcarnage
Fidel Castro dies and Donald Trump is elected President in the same month in the same year.... wtf is next?
26/11/2016 13:21:05 WIB

October Jones
@OctoberJones
Donald Trump: "Fidel Castro is dead!" Yes he is, Mr President. "I'm sitting on a chair!" Also accurate. Well done, sir.
26/11/2016 20:26:48 WIB

Nick Jack Pappas
@Pappiness
Fidel Castro was a cigar-smoking, repressive leader who hated free speech and a free press. Donald Trump, in comparison, doesn't smoke.
26/11/2016 18:17:38 WIB

Nemophilist
@SagaraNayaka
Fidel Castro: I will not die until America is destroyed. America: Donald Trump is our new president. Fidel Castro: Well then......
26/11/2016 20:14:41 WIB