Berita duka datang dari Kuba, pemimpin revolusi komunis Kuba, Fidel Castro telah meninggal dunia di usia 90 tahun.

Giannina Raffo
@Gianninaraffo
Like Mao, he died peacefully. Not like his victims. #FidelCastro pic.twitter.com/LEh3mWqxdT
26/11/2016 13:00:46 WIB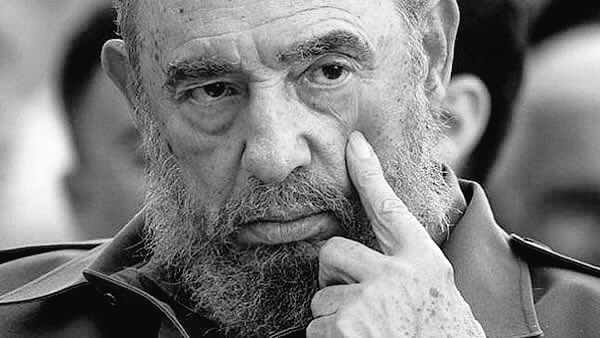 Expand pic

Republika.co.id
@republikaonline
Pemimpin Legendaris Kuba Fidel Castro Meninggal Dunia rol.co.id/r/oh8irc377
26/11/2016 12:47:41 WIB
Mantan presiden yang juga pemimpin revolusi Komunis Kuba, Fidel Castro, meninggal dalam usia 90 tahun. Belum ada informasi lebih lanjut penyebab meninggalnya. Ia memimpin Kuba hampir setengah abad sebelum akhirnya menyerahkan kekuasannya ke saudara lelakinya Raul Castro pada 2008. Para pendukungnya sangat mengelu-elukan Castro yang dianggap telah merebut Kuba dan mengembalikannya ke rakyat. Ia juga secara berani menentang negara adi daya Amerika Serikat. Meskipun begitu, oposisi Castro menganggap ia otoriter.

URL
Republika Online
Fidel Castro, Pemimpin Legendaris Kuba Meninggal Dunia | Republika Online
REPUBLIKA.CO.ID, HAVANA -- Mantan presiden yang juga pemimpin revolusi Komunis Kuba meninggal dalam usia 90 tahun. Hal itu dilaporkan oleh televisi Kuba sepeti dikutip BBC, Sabtu (26/11). Belum ada...
Bagi sebagian orang, Fidel merupakan sosok yang menginspirasi

#JusAdBellum🕳️🌠🕊️
@IndraJPiliang
Hening sejenak utk Mbah Fidel Castro: gerilyawan sohib Che Guevara yg meninggal dunia di usia 90 thn. Ide2 anti kapitalisnya luar biasa. RIP
26/11/2016 12:41:53 WIB

Faisol Riza
@faisolRI
Yang menjadikan Che Guevara ikon revolusioner dunia. Selamat jalan news.detik.com/internasional/…
26/11/2016 12:55:04 WIB

henri salim
@henrisalim1
Dan Akhirnya tokoh revolusi Kuba itu pun meninggal.. #FidelCastro . Tak ada yg abadi..
26/11/2016 12:38:57 WIB
Namun, adapula yang menganggap Fidel seorang diktator

BLACK LIVES MATTER
@babyitsmb
why is everyone calling Fidel Castro a leader/president? did y'all forget he was a cruel dictator ?
26/11/2016 13:09:50 WIB

Michael C Moynihan
@mcmoynihan
Just like those sieg heiling guys are Nazis, not "alt-right," Fidel Castro was a dictator, not the "former president of Cuba"
26/11/2016 13:00:42 WIB

Garrett
@JoblessGarrett
My grandparents will be very happy to hear Fidel Castro has died. He caused so much grief to my family when they lived in Cuba
26/11/2016 12:52:51 WIB

Castor Pollux
@gallego6171
So many people wanted to kill him and yet he died from natural Causes. Fidel Castro has passed away today. Cuba now has to modernize
26/11/2016 12:48:50 WIB

Christian J. Lasval
@christianlasval
Hell welcomed a new resident tonight. Fidel Castro is finally back where he came from and where he belongs. #Cuba
26/11/2016 13:26:45 WIB

John Smith (son of Harry Leslie Smith)
@Harryslaststand
However you viewed him a political giant of the 20th century died in Cuba last night. #fidelcastro
26/11/2016 12:54:37 WIB

Heru Hendratmoko
@h3ru_h
Fidel Castro meninggal pada usia 90. Bagi sebagian orang, ia diktator. Bagi yang lain, ia inspirasi sosialisme. Apapun, ia orang besar.
26/11/2016 12:59:33 WIB