Anak berusia 6 tahun ini membuat surat yang menyentuh setelah kakaknya yang autis disebut aneh
@tumbenlucu

CBS News
@CBSNews
Kid calls boy with autism "weird," then his 6-year-old sister comes to his defense cbsn.ws/2dDv9Js pic.twitter.com/P63Q3EWXg1
25/10/2016 03:20:01 WIB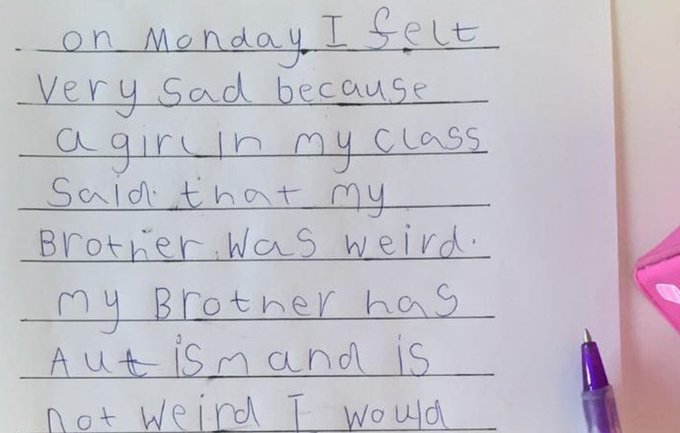 Expand pic
Kisah ini berawal dari posting di akun facebook Sophie Camilleri yang bercerita soal anak perempuannya yang bercerita soal teman temannya yang menganggap aneh saudara laki lakinya yang mengidap autisme
Menerima omongan dari temannya, Lex seorang anak berusia 6 tahun menanggapinya dengan sangat bijak dan dewasa. Ia menuliskan sebuah surat untuk mengkampanyekan awareness soal disabilitas agar teman teman sekolahnya lebih mengenal soal disabilitas

Skip Sparkypants
@briiiskiii
@CBSNews What other kid said wasn't that bad. Good for his sister for taking up for her bro. Kids (and adults) aren't aware of everything.
25/10/2016 03:28:53 WIB

becca emerita. 🍓⸝꙳
@maxinemerita
@CBSNews this is me with anybody who messes with my brother and still will be me always. Proud of her for educating those bullies.
25/10/2016 06:37:38 WIB

Stuart Duncan
@autismfather
When a 6 year old is wiser than many adults... #autism mashable.com/2016/10/24/dis…
24/10/2016 22:22:45 WIB

Rob Szczerba
@RJSzczerba
6-year-old sticks up for her brother with autism: See her viral letter a.msn.com/05/en-us/AAju1…
28/10/2016 09:01:06 WIB


Steve Silberman
@stevesilberman
Girl's letter shows that education about disability (including autism) must start *early*. buzzfeed.com/rosebuchanan/a…
25/10/2016 01:39:26 WIB

Ahamad
@Ahamad65991658
@CBSNews Us adults can learn so much from this 6 yr old, she has certainly inspired me. Thank you honey.
25/10/2016 04:01:04 WIB
Saat ini posting facebook tersebut sudah viral dan didukung puluhan ribu netizen
Dalam Bahasa Indonesia, surat itu berbunyi:
Aku merasa sedih hari Senin kemarin karena seorang anak perempuan di kelasku bilang abangku aneh. Abangku punya autisme dan dia tidak aneh. Aku senang jika kita bisa belajar tentang disabilitas di sekolah sehingga setiap orang bisa sadar bahwa sebagian orang berbeda, tapi tetap harus mendapatkan perlakuan baik yang sama.