Kabar yg cukup mengagetkan (tidak?).
Fotografer Mahmoud Raslan yang memotret Omran Daqneesh, anak Suriah umur 5 tahun yg fotonya jadi viral di media internasional karena aksi kejam pemboman di Aleppo ternyata juga 'bergaul' dengan sekelompok militan pro 'Zenki Movement' yang telah memenggal kepala anak Palestina berumur 12 tahun di Aleppo.
Hipokrit?

Carmen Renieri
@RenieriArts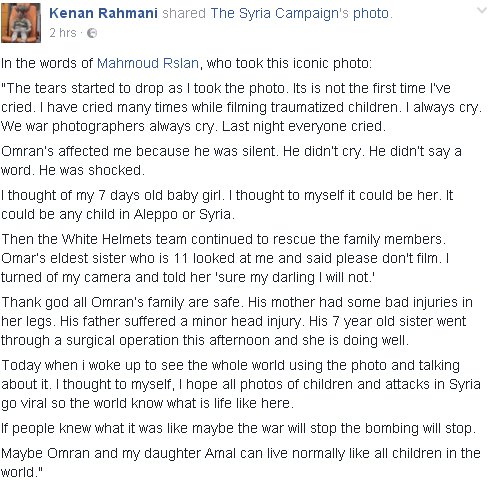 Expand pic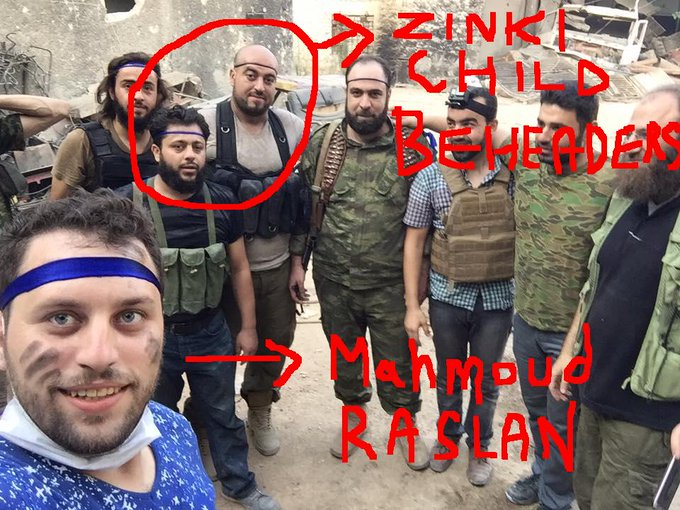 Expand pic

H e b a
@HKX07
Rupanya, setelah diperhatikan baik2, dua orang yang ada di video tsb mirip dengan orang yang 'selfie' bareng Mahmoud Raslan, si fotografer.

🎄festive☃️Dominic |❓| دومينيك الحلو
@domihol
Expand pic

TeknoAXE
@teknoaxe
Expand pic

Lina Arabi
@LinaArabii
For those still confused, it's about the guy who took the viral photo of the boy in Aleppo, Mahmoud Rslan.
pic.twitter.com/vYo4RPuAJT
Expand pic

Lina Arabi
@LinaArabii
Shirt fits all occasions. When u're casually hanging out with child beheaders & when u're a child rights activist.
pic.twitter.com/rGTBhLwE0i
Expand pic

Lina Arabi
@LinaArabii
And the pic is from August 5th. Weeks after they beheaded that child. He posed with them knowing what they'd done.
pic.twitter.com/TZqKW4BFbs
Expand pic

Lina Arabi
@LinaArabii
Expand pic

Lina Arabi
@LinaArabii
So when he's not out saving kids, he's palling around with ppl who behead them. Give this guy a Nobel Peace Prize. Now.
Setelah ditelusur di akun resmi Facebook Mahmoud Rslan, foto 'selfie' tesb memang benar ada.

Jewish Russophile
@JewRussophile

AMEEN 🇱🇧 🇺🇸
@Ameen_media
@walid970721
I almost believed his words till I saw his picture with those asshole. Now I think he's a hunter looking for a prize.


Walid
@walid970721
PT Hypocrite pretends to be all emotional about the boy. Then it turns out he's a friend of the beheaders of the Palestinian boy.