Ada 41 mesin penyedia kondom otomatis yang tersebar di Olympic Village. Jumlah kondom yang disediakan panitia di 2016 ini berkali lipat jumlahnya dari yang tersedia selama London Olympic 2012.
Ini kisah Olimpiade Rio de Janeiro 2016 dan kondom
Ada puluhan mesin kondom di Olympic Village


Lando Calrissian
@Lando_Cal
Olympic village IS the best place in the galaxy right now. I'd like to thank the organizers for my bag of condoms + bug spray! #LandoinRio
07/08/2016 02:14:21 WIB

BRASIL EM FOTOS
@brasil_fotos
As máquinas de camisinhas para os atletas da Vila Olímpica precisam ser cheias duas vezes ao dia. É o fogo olímpico. pic.twitter.com/sN71BlQef5
09/08/2016 23:46:22 WIB
Expand pic

Darren Rovell
@darrenrovell
One of 41 condom vending machines in Olympic Athlete Village in Rio (H/T @StephenWadeAP) pic.twitter.com/SHkEd4cYQy
28/07/2016 01:48:05 WIB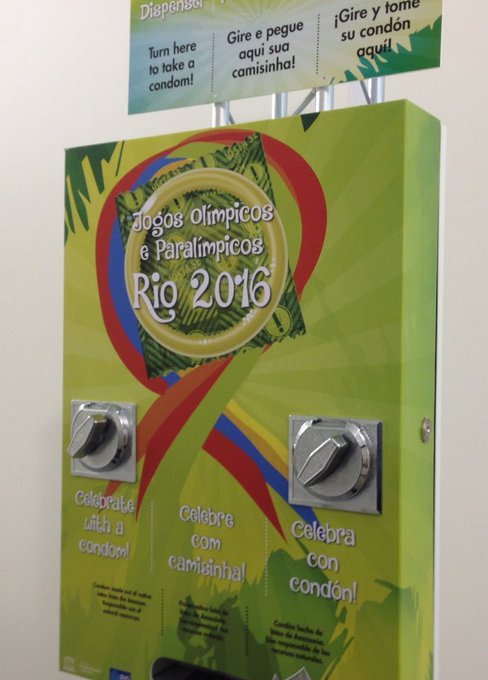 Expand pic


Guilherme Cruz
@guicruzzz
Celebrate with an Olympic condom pic.twitter.com/ToBUjQOdKL
11/08/2016 23:17:31 WIB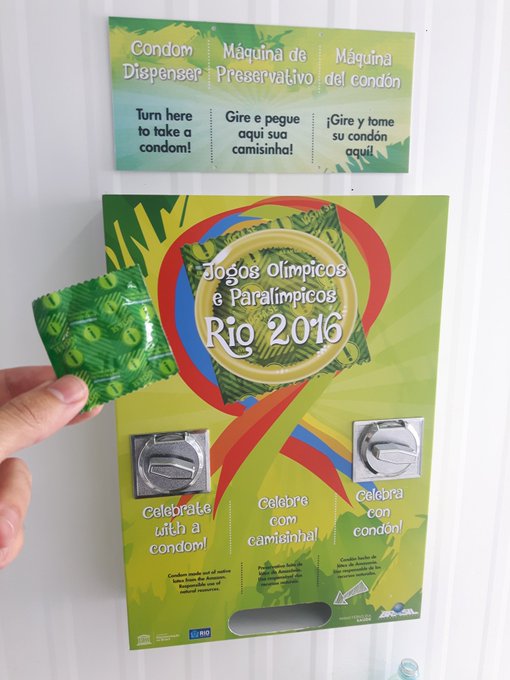 Expand pic

yoo jayoung
@jayounng
There are condom dispensers for men at the Olympic Media Center dlvr.it/LxTXk6
02/08/2016 23:18:08 WIB

Matthew Stephenson
@matts84
Well said @gregjames Olympic villege condom machine #nonews @BBCNewsbeat
11/08/2016 23:03:59 WIB
Kabarnya, panitia olimpiade 2016 ini menghitung suplai kondom yang dibutuhkan dengan perhitungan 42 kondom per atlet, total ada 450 ribu kondom yang tersedia selama penyelenggaraan Olimpiade selama 2 minggu ini.

9GAG
@9GAG
42 condoms per person in Olympic village. All Hail the Rubber Man! 9gag.com/gag/a7dqoZq?re… pic.twitter.com/xWYce8F6v0
11/08/2016 01:00:38 WIB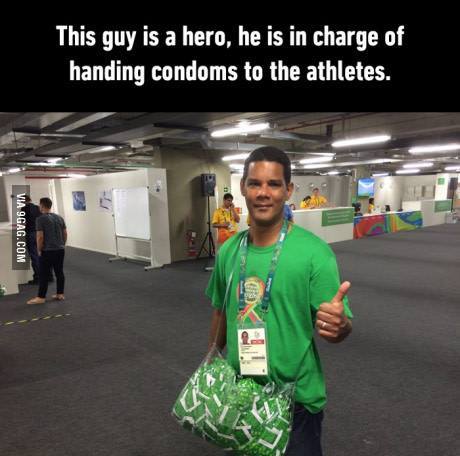 Expand pic

graduating o24 🦋
@o24
Olympic village ordered 450,000 condoms for the athletes this year. I sure hope 42/athlete is enough for their 2 week stay!! 😝🍾🏆🏅🇺🇸
11/08/2016 22:28:34 WIB

hutch
@HutchNGo
they have 450k condoms in olympic village?!? i wonder if there's ever been an olympic baby made.
12/08/2016 00:46:43 WIB
Saking banyak penggunanya, mesin kondom di Rio 2016 harus diisi dua kali sehari!

QuintusCurtius
@QuintusCurtius
Condom machines for athletes at Olympic Village need to be filled 2 times per day. Someone's getting happy. twitter.com/brasil_fotos/s…
09/08/2016 23:48:44 WIB
Wawancara NBC Sports yang dilansir Yahoo mengungkap pendapat sejumlah atlet tentang persediaan kondom di Rio Olympic.
Johny Weir (figure skater, USA) berpendapat bahwa atlet sebenarnya tak bisa terlalu berpikir tentang seks selama olimpiade karena mereka tahu energi mereka akan terkuras dan mereka harus fokus ke pertandingan.
Ryan Lochte (perenang, USA) berpendapat bahwa 75% atlet di Olympic Village pasti melakukan hubungan seks selama olimpiade, dan pasti setelah bertanding dan tak ada game lagi atlet pasti berpikir tentang seks
Danell Leyva (gymnastic, USA) ketika ditanya apakah 450 ribu kondom cukup banyak untuk memenuhi kebutuhan semua atlet, dijawabnya jika jumlah itu sudah dua kali lipat dari jumlah yang disediakan di London Olympic 2012 mungkin saja cukup. Dia juga berpendapat tim basketlah yang akan paling banyak menggunakannya.
Buktinya memang selama olimpiade musim dingin di Sochi Rusia 2014 lalu aplikasi kencan Tinder crash selama berlangsungnya olimpiade.

URL
sports.yahoo.com
Are 450,000 Rio Olympic condoms actually enough? We asked athletes
Johnny Weir isn't sure who, exactly, is having 450,000 condoms worth of sex in the Rio Olympic Athletes Village. "When I was at the Olympics, my crazy Russian lady coach made me believe that if I even if I had sex with myself, all my energy would go away
Pengalaman dari London Olympic 2012, selain aplikasi kencan Tinder yang crash, aplikasi kencan untuk homoseksual juga mengalami crash.
Dan FYI, tulisan di mesin kondom dalam bahasa Portugis itu berarti "Rayakan dengan Kondom".
Di Olimpiade London 2012 lalu
JIka distribusi kondom di Rio 2016 ini terbantu dengan adanya mesin, di 2012 atlet harus datang ke klinik kesehatan di Olympic Village mereka untuk mendapatkannya, atau mereka harus berharap kontingen pendamping mereka membawa dan menyediakan kondom di rumah atlet mereka. Dan yang membuat atlet dari negara lain cemburu adalah Tim Australia yang saat itu membawa kondom sendiri dan menempatkan wadah kondom khusus di masing-masing rumah atlet.

Dr Bunsen Honeydew
@DrBunsenH
A job for the brand police. Durex upset their condom monoply at the olympic village is being threatened by the aussies pic.twitter.com/JjoCz4sm
08/08/2012 15:38:48 WIB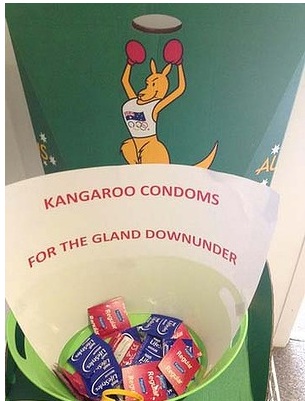 Expand pic
Jumlah kondom yang disediakan pun sepertiga dari 2016 ini

Wai
@kuma_jeff
10500 Olympic Athletes, need 150,000 condoms!? each olympian uses 14 condom in average!?businessinsider.com/olympics-condo… pic.twitter.com/wXc4MobX
02/08/2012 20:05:50 WIB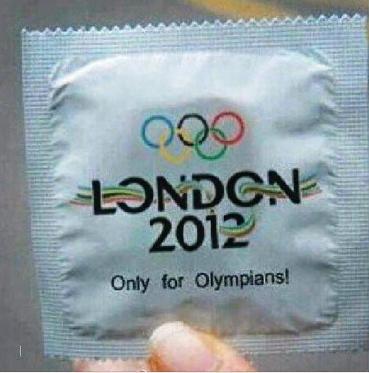 Expand pic
Yang menarik juga dari Australia di London Olympic 2012 lalu adalah bentuk-bentuk iklan kondom di sana yang sngat bernuansa olimpiade.