Tanggal 9 Agustus 2016 Michael Phelps memecahkan rekor perolehan emas olimpiade atas namanya sendiri. Lewat nomor butterfly 200m dia meraih emas ke-20.
Ekspresi Phelps saat menunggu pertandingan dimulai dan Chad le Clos pemanasan di depannya. Tatapan maut ini terjadi saat pertandingan yang membawa emas ke-20 untuk Phelps, 9 Agustus 2016
le Clos adalah perenang Afrika Selatan rival berat Phelps untuk nomor butterfly. Clos mendapat emas di London Olympics 2012 sedangkan Phelps dapat perak ketika itu.

#TokyoOlympics
@NBCOlympics
*thinking about gold medals* pic.twitter.com/fexV97icm8
09/08/2016 09:13:34 WIB
Expand pic

CORTNEY FIELDS
@cleannef_
Michael Phelps is actually me 99% of the time pic.twitter.com/T7CmgJUC7q
10/08/2016 13:35:29 WIB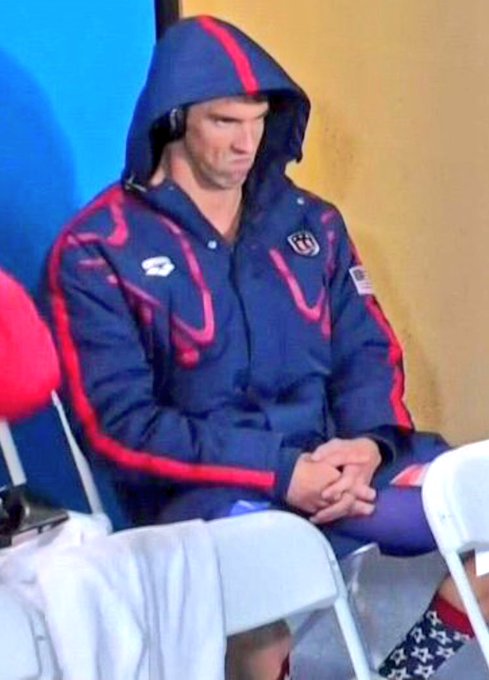 Expand pic

William Byron
@WilliamByron
Phelps is not amused 😂 pic.twitter.com/E2PkjdN5eB
09/08/2016 09:18:30 WIB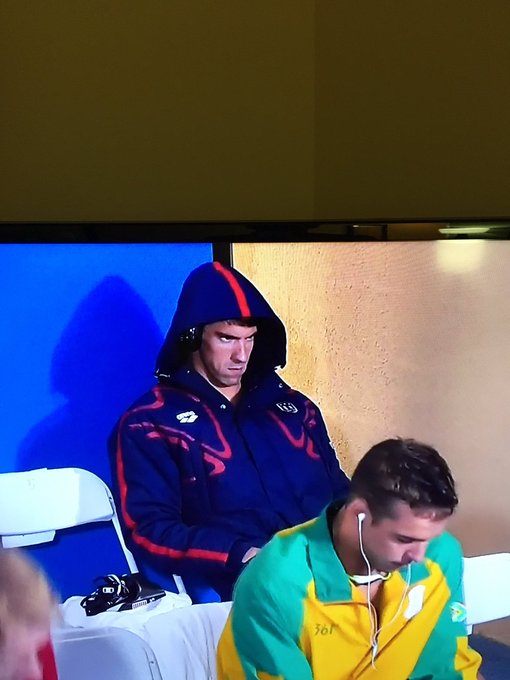 Expand pic

Todd Blake
@Rev_Todd
When you're about to swim against someone dressed like a Teenage Mutant Ninja Turtle #PhelpsFace pic.twitter.com/kUdjpEyVWA
09/08/2016 18:12:50 WIB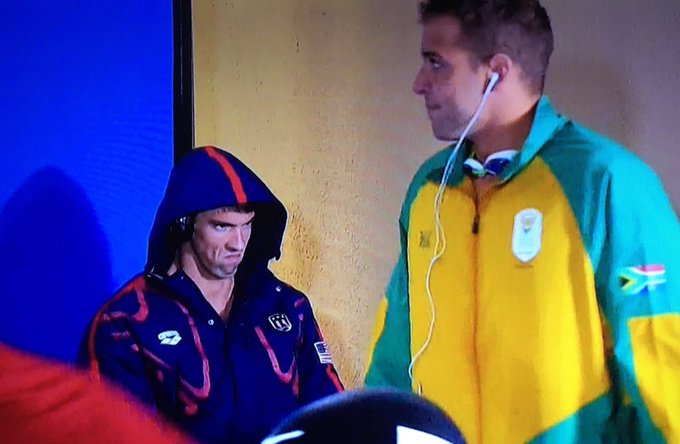 Expand pic

nascarcasm
@nascarcasm
Michael Phelps. #Olympics pic.twitter.com/mewOF4N0CI
09/08/2016 09:31:54 WIB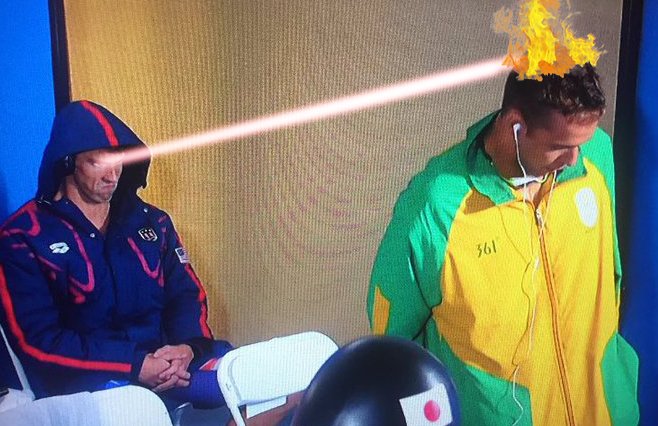 Expand pic

Kevin Nguyen
@knguyen
CUT MY LIFE INTO PIECES pic.twitter.com/PxZsUC5pgK
09/08/2016 09:39:54 WIB
Expand pic


Timothy Burke
@bubbaprog
oh god Michael Phelps is gonna be Darth Vader isn't he pic.twitter.com/9Xq3GBU2UB
09/08/2016 09:16:35 WIB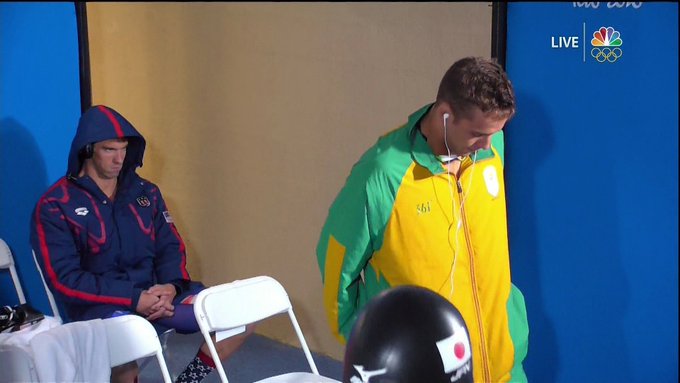 Expand pic


Bradd Jaffy
@BraddJaffy
Same, @MichaelPhelps, same. I feel you. pic.twitter.com/yxzBMASGcH
09/08/2016 09:18:53 WIB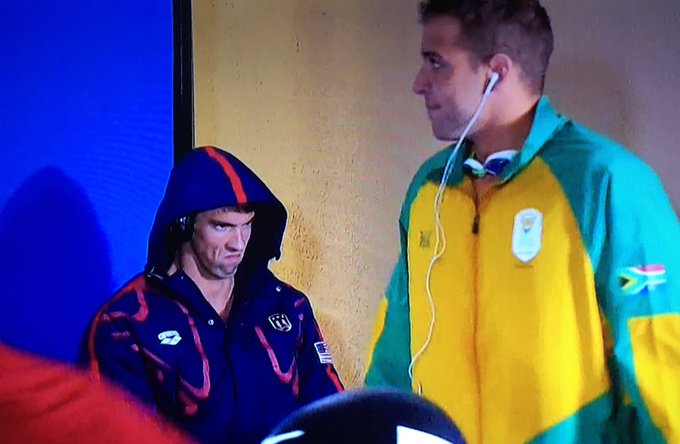 Expand pic

Mongo
@MongoInc
Friends: "let's go out to eat" Me: *looks at bank account* vine.co/v/5bmAnLAdmjZ
10/08/2016 10:50:41 WIB

URL
Vine
Waiting for Michael Phelps to turn into a fish.
Vine by Zach Schotz
Akhirnya Phelps menang di nomor butterfly 200m, sedangkan le Clos finish di urutan 4 setelah perenang asal Jepang (Masato Satai) dan Hungaria (Tamas Kenderesi).


China Xinhua News
@XHNews
Michael Phelps wins his world-recording 20th Olympic gold medal in Men's 200m Butterfly in Rio pic.twitter.com/MCoO9IbTWM
10/08/2016 13:21:32 WIB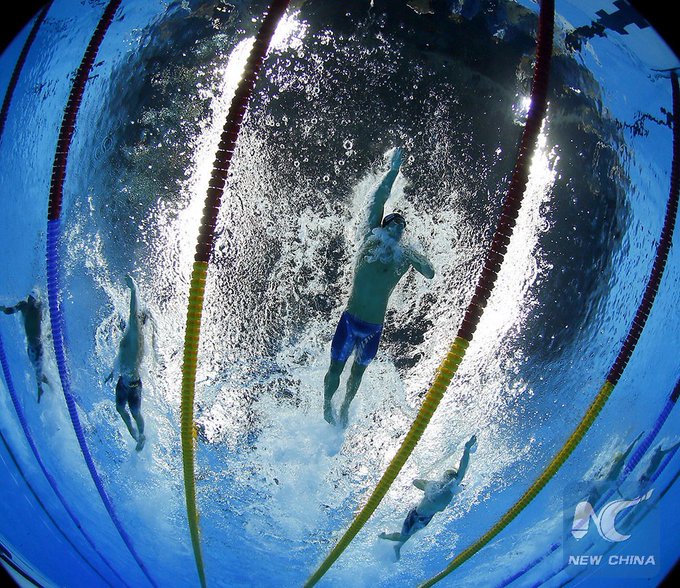 Expand pic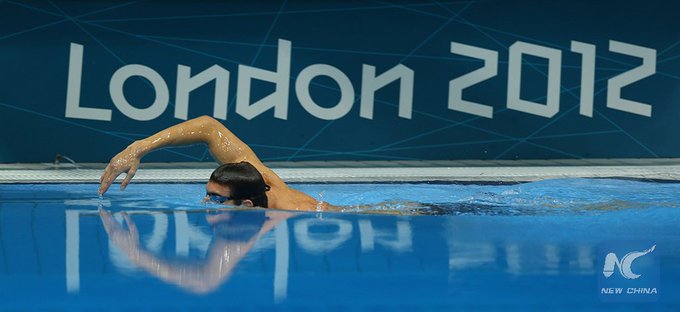 Expand pic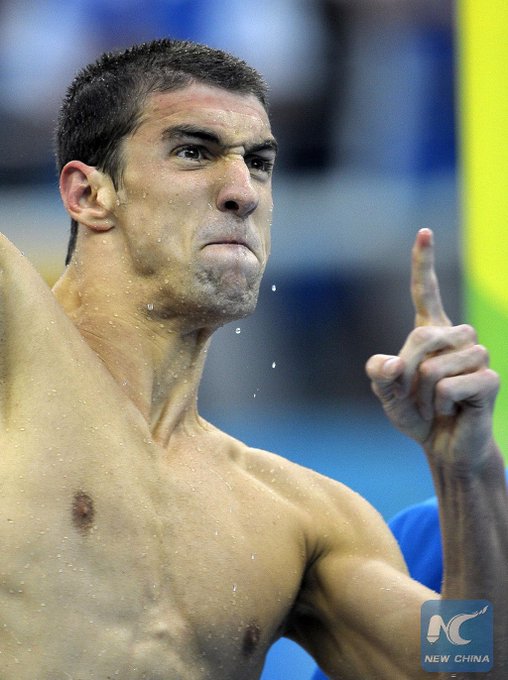 Expand pic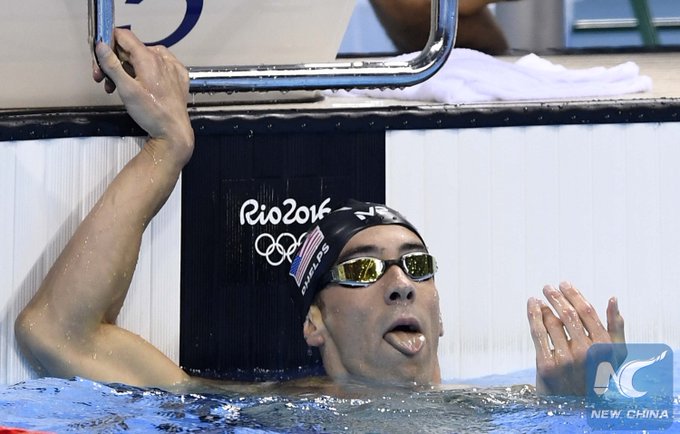 Expand pic

Good Morning America
@GMA
Being #1? That's cool. Being #1 TWENTY times? That's Michael Phelps. #USA #GOLD #Swimming pic.twitter.com/FbRznezoUZ
10/08/2016 08:49:57 WIB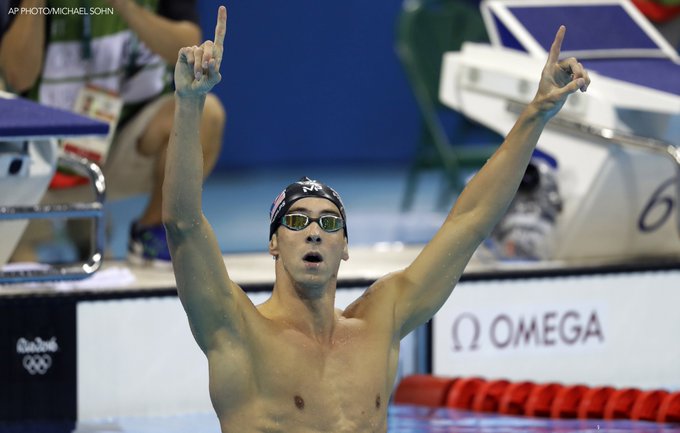 Expand pic