Mungkin pria ini terlalu cinta dengan mobilnya sampai2 diajak bercinta??
Seorang pria di Brazil tertangkap basah ketika sedang bercinta dengan knalpot mobil Opel Corsa!
Kejadian tsb terekam kamera oleh pejalan kaki yg sedang melintas. Dia berhasil merekam kejadian cukup anti maistream tsb hingga akhirnya pria yg sedang bercinta itu sadar lalu pergi meninggalkan mobilnya.

iReporter
@iReporteronline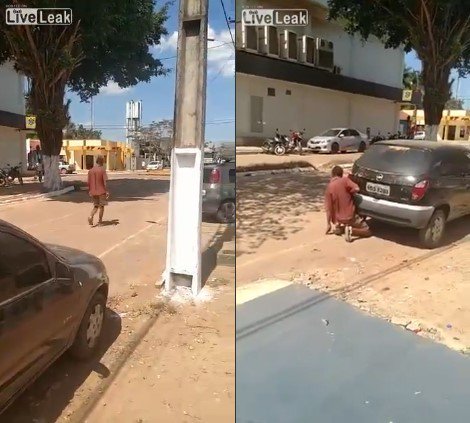 Expand pic

Erik de Vlieger
@EWdeVlieger

Headline News Today
@BuzzNews2day
If you are having a dry spell, always remember that someone somewhere is trying to have sex with car exhaust.. 󾌴󾌴󾌴
fb.me/KBsyCWox

Purple_Viking22
@Purple_Viking22

Gemma Barrass
@Gemma_b986
@TheSun
omg.. well that backfired 😉😂... seriously tho what the actual f¥€k?! Idiot!! 👊👊

Chunky Lover
@ChunkyLover1964
@TheSun
It's not even a pretty car.

αℓƒʀєɗσ ιι™
@IIAlfredo
@TheSun
people will have sex with anything nowadays ...