Berawal dari pidato Khizr Khan tentang anaknya yang mati berjuang untuk Amerika
Keluarga Khan adalah keluarga imigran muslim yang telah lama menetap di Amerika Serikat.
Sang kepala keluarga, Khizr Khan, berpidato bagaimana anaknya, Humayun Khan, yang seorang muslim telah mati berkorban dalam perang di Irak demi melindungi kawan-kawanya.
Pidato tersebut adalah dalam rangka untuk mengonfrontir kebijakan Trump yang akan melarang muslim tinggal di Amerika Serikat.
Salah satu kutipan pidatonya:
"dan jika dulu yang memimpin adalah Donald Trump, maka anak saya tidak akan pernah bisa membela negara ini"
Humayun Khan mendapatkan penghargaan Bintang Perunggu dan "Purple Heart"

The Democrats
@TheDemocrats
Setelah pidato tersebut, Trump dalam sebuah wawancara dengan channel Abc meledek Istri Khan yang hanya berdiri diam.
Trump mengatakan,
"Istrinya, jika kamu melihatnya, hanya berdiri diam tak berkata-kata. Mungkin bahkan dia tidak dibolehkan bicara."
Trump juga 'membandingkan' pengorbanan yang diberikan oleh sang prajurit yang gugur, Humayun Khan, dengan apa yang Trump telah berikan untuk Amerika berupa lapangan pekerjaan.


The New York Times
@nytimes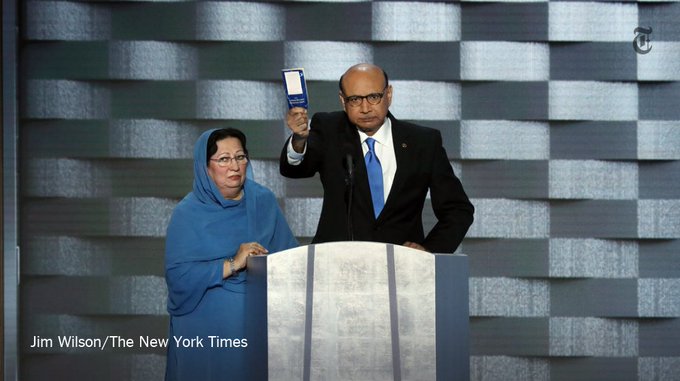 Expand pic
Atas ledekan Trump tersebut, Ghazala Khan, sang istri yang disudutkan dalam wawancara Trump bersama channel Abc News, merespon balik


The New York Times
@nytimes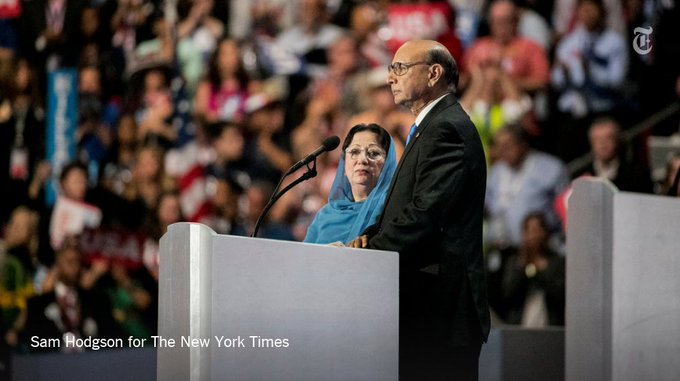 Expand pic

Daniel Burke
@BurkeCNN
"I didn't feel anything except the pain," said Ghazala Khan about Trump's insinuations. Let that sink in.
pic.twitter.com/OME79YMeuH
Expand pic

Bret Stephens
@BretStephensNYT
Trump's smear of Ghazala Khan is despicable. And if you don't agree, you're despicable.
nyti.ms/2aSz7cd

Thanh Tan
@TanInSeattle
Rekaman jawaban Khizr Khan dan Ghazala Khan

Alan Kestrel
@AfterDarkAK

Alan Kestrel
@AfterDarkAK
"He is not worthy of our comments. He has no decency. He is void of decency, he has a dark heart." —Khizr Khan

Alan Kestrel
@AfterDarkAK
"Sacrifice -- I don't think he knows the meaning of sacrifice, the meaning of the word." —Ghazala Khan

Marcia La Résistance 🆘🇺🇸
@MarciaBunney
@AlanKestrel750
Mr. and Mrs. Khan have already suffered so much and should not be subjected to the ugliness of someone like Trump.