Seseorang yang tdk mau diketahui identitasnya (anonim) mengunggah video perlakuan tak pantas dalam kegiatan orientasi mahasiswa baru di NUS (National University of Singapore). Dia jg mengungkapkan kekesalannya dan tidak percaya akan hal tsb

Dear ASS Editors,
I received this video yesterday, after the NUS orientation games saga erupted. These activities took place on the afternoon of 27/7/2016. From what I know, NUS had already said that they will investigate, take "strong disciplinary action" and "NUS staff will be at camps throughout" so I can't understand why this is still happening?????
........
"Saya menerima video kegiatan orientasi ini kemarin. Aktivitas ini terjadi pada tanggal 27 Juli 2016. Dari yg saya tahu, NUS sudah mengatakan bahwa akan melakukan investigasi dan memberikan tindakan disiplin yg keras kepada mahasiswa senior yang terlibat dalam orientasi tsb. Tapi kenapa hal ini masih terjadi??????"
"Sangat disayangkan bahwa universitas bergengsi dan ternama sekelas NUS memperlakukan mahasiswa yg baru masuk dengan cara demikian"

WORLD OF BUZZ
@WORLDOFBUZZ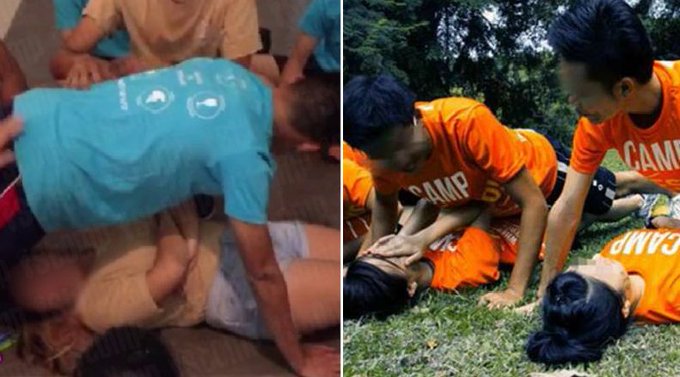 Expand pic

The Straits Times
@STcom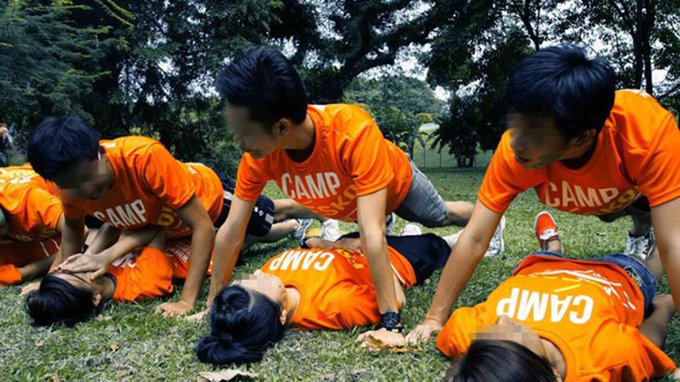 Expand pic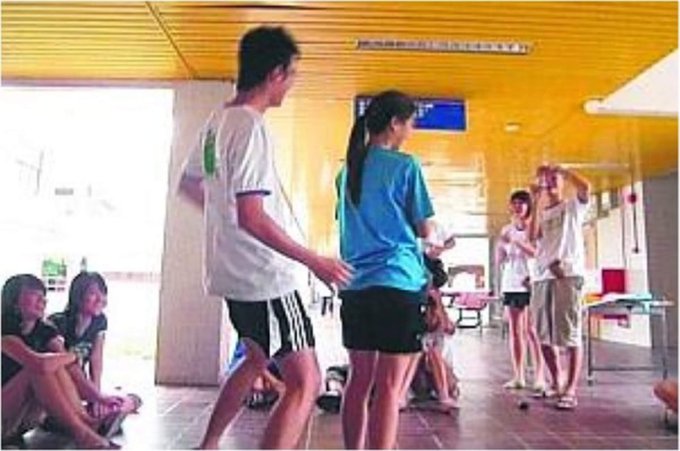 Expand pic
Dua bulan lalu bocor pula rekaman orientasi mereka dimana mahasiswa baru tsb dipaksa berakting layaknya sedang berdegan seks dengan lawan jenisnya.

Kimuii
@literallykimi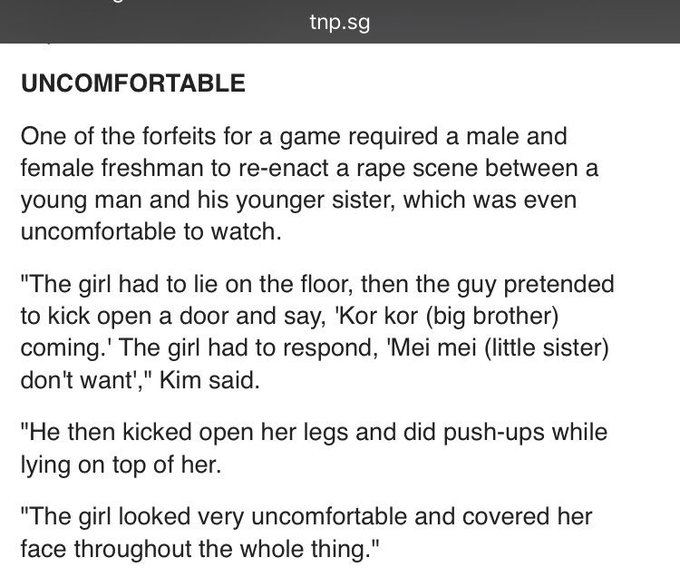 Expand pic
Pengakuan dari mahasiswa baru yang diorientasi
Intinya, mahasiswa baru tsb mengaku bahwa saat orientasi, dia disurh untuk melakukan adegan2 tak senonoh. Seperti mereka harus berpose layaknya pelacur dan melakukan "bukaka" cheer yang mensimulasikan sejumlah pria sedang ejakulasi di wajah wanita.

naimah umee sarah
@umeesarah

Marcus S Tan
@marcusstan
To: NUS Management, Are you really investigating these activities?
fb.me/2pXWz408i

YeeKiat Tan
@yeeeks
@STcom
surprised that you didn't dig further. you should check on the SDU's sponsorship of these Orientation camps and ask tough questions

🍃 𝕁𝕠𝕁𝕠 𝔸𝕟𝕘𝕖𝕝𝕦𝕤 🌱
@JJ_Angelus
Tanggapan pihak NUS:
Pihak pengurusan National University of Singapore (NUS) kini sedang menanggapi laporan adanya aktivititas orientasi untuk mahasiswa baru yang berunsurkan seksual tsb.
"Kami memandang serius laporan ini dan akan membuat penyiasatan secara menyeluruh. Tindakan disiplin yang sewajarnya akan dikenakan terhadap mereka yang terlibat"

🌻
@thurn1s
The whole drama about NUS and their orientation games just proves that there are plenty of stupid smart people.. and they're thirsty af lmao