Foto aslinya diupload sebuah akun Weibo tanggal 29 Juni dengan caption "sekarang saya tau kenapa kalian orang Beijing suka belanja di Ikea". Setelah menyebar luas dan panen komentar di sosial media, pihak berwenang minta foto itu dihapus dan sejak 30 Juni foto tsb sudah tak ada lagi di akun wu hou kuang shui_silent yang pertama kali mengunggahnya. Tak diketahui apakah perempuan itu sadar fotonya diambil. Mereka yang curiga sempat menuding foto itu adalah cara kotor Ikea untuk berpromosi tapi tanggal 30 Juni Ikea membantah hal tsb via Weibo dan mengingatkan agar pengunjung menjaga nilai-nilai moral ketika berbelanja.

Daily Mail Online
@MailOnline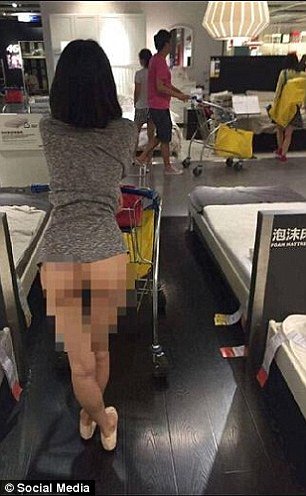 Expand pic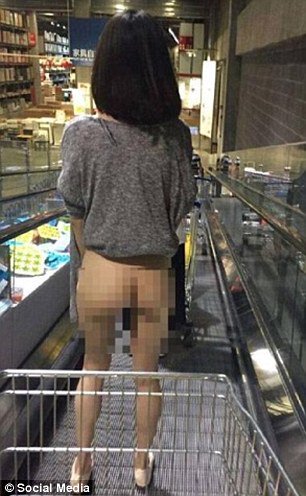 Expand pic

Irobiko Chimezie
@meziesblog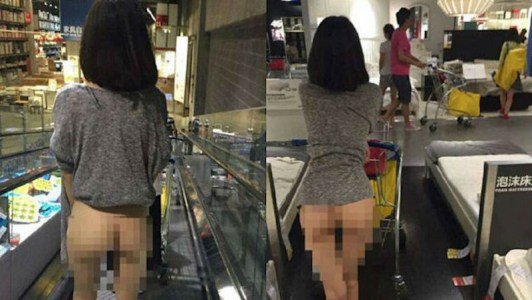 Expand pic


GONG
@GONG

righteous axe
@righteousaxe
@MailOnline
totally ok with this, may this trend cross the pacific to america soon


The Deadnamed
@ComputerSays


kcvinalpena
@kcvinalpena

Adam
@ATMology

Chris (🌈Panda & 🌈Nilla)Papa ⛈🐼🌹🐬🥁💙💔🍔🍦 🌅
@ChristoStad

Riffkeen_
@Riffkeen_

The Realist
@Zaroath
@MailOnline
Are u sure it's a woman, I have been fooled before😟

Straw
@mcgurk42
@MailOnline
I wouldnt show my arse in public if it was that blocky. Like a nice round arse myself.