Beberapa waktu lalu tersebar video Presiden AS Barack Obama yang sedang mempersiapkan makanan berbuka puasa bersama keluarganya

usayd
@usayd
People posting video of Obama serving iftar at the White House like they ain't droning Muslims whilst they're fasting..
03/07/2016 19:30:59 WIB

Trendborg
@trendborg
Watch: Barack Obama, family serve Iftar dinner at the White House; video goes viral #viral
03/07/2016 20:53:28 WIB

Mom of KL™️🇲🇾
@amuse_gueule
Obama serving Thanksgiving dinner has gone viral at Facebook as "Buka Puasa at the White House". Some Muslims luv 2 "Muslim-fy" everything 😂
03/07/2016 14:00:26 WIB

chanchangi
@Abbahey
IFTAR offered by Obama. May Allah guide him to Islam. Ameen.
24/06/2016 12:22:52 WIB
Video ini menjadi video viral di internet

Tanveer Arain
@tanvirarain
Mr. Obama @POTUS is serving Iftar with his family #WhiteHouse pic.twitter.com/UwlQR9F52K
03/07/2016 06:11:00 WIB

سید مشتاق
@Sayyedmurtuza41
America's President Barack Obama hosted an Iftar Party ... pic.twitter.com/WKDLqxgyqF
20/06/2016 00:36:52 WIB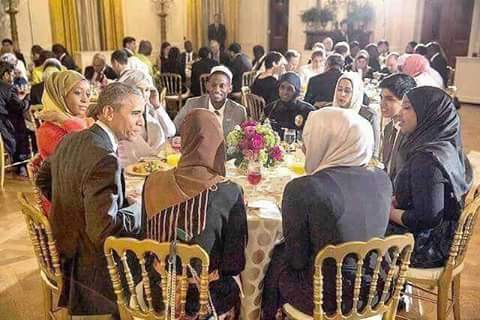 Expand pic

tantan
@constantane
Sejam udah ngeliat 3 video ; Lagu dangdut Valak + Jokowi panco + Obama nyiapin makanan buat yg buka puasa di Gedung Putih. Ga di-remix?
03/07/2016 19:38:59 WIB