Anak kucing itu mati dengan keadaan yang mengenaskan :(

Daily Mirror
@DailyMirror
Heartbreaking pictures of mother cat trying to revive her dead kittens mirror.co.uk/news/world-new… pic.twitter.com/jE3yVLKPAe
18/06/2016 17:19:22 WIB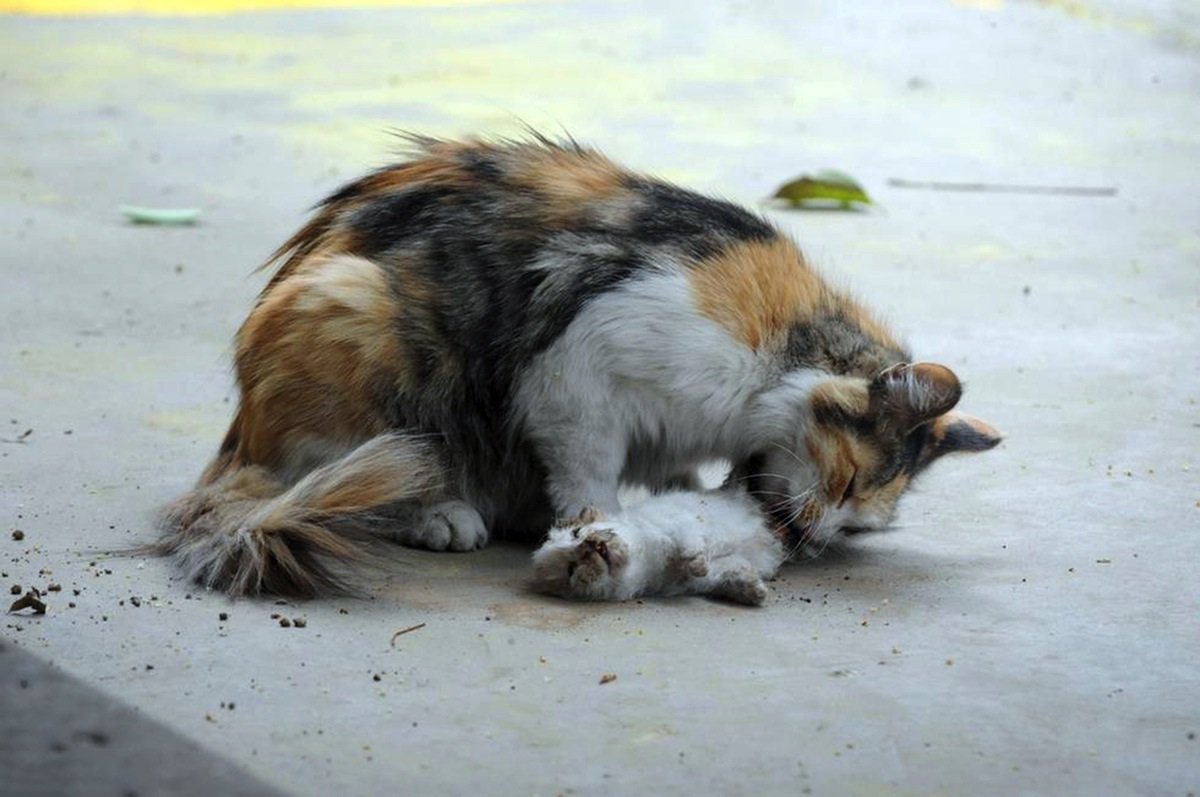 Expand pic
Pemandangan pilu ini terjadi ketika seekor ibu kucing di Cina mencoba untuk membangunkan kembali anaknya yang telah mati.
Seekor ibu kucing dan dua ekor anaknya merupakan kucing jalanan yang diambil dan diberi kotak kardus sebagai tempat tinggal oleh warga yang bernama Yang.
Pada hari itu, ibu kucing yang sedang meninggalkan kardus untuk mencari makan meninggalkan dua ekor anaknya di sana.
Tapi tak disangka, sekembalinya ibu kucing itu pulang, dua anaknya telah tewas dengan keadaan perut yang terbelah pisau dan kepala yang hampir putus.

URL
mirror
Heartbreaking pictures of mother cat trying to revive her dead kittens
The mother cat refused to leave the kittens' side – seemingly distraught over the murder of her offspring
Kejadian ini disebutkan oleh Yang dikarenakan ulah jahat warga lain yang tidak senang dengan kucing dan menganggapnya sebagai hama.
Yang: "Bagaimana bisa orang2 itu dengan teganya membunuh dengan keji anak2 kucing ini hanya karena mereka tidak suka!"
:(

A⃣    R⃣    B⃣
@Ab_ldn
Mourning mother cat caresses its dead kittens after a psycho decapitates one and stabs another in the stomach 😔 pic.twitter.com/hKM7EGX5Yu
19/06/2016 13:31:25 WIB
Expand pic
Expand pic

Stella Luna
@Lunaberry31
CHINA: MOTHER CAT GRIEVES; TRIES TO REVIVE HER DEAD KITTENS THAT WERE STABBED TO DEATH & BEHEADED BY DEMONS twitter.com/acushla7/statu…
21/06/2016 15:54:27 WIB

ÇapaMag Ekonomi
@CapaMagEkonomi
The heartbroken mother: Mourning cat tries to revive her dead kittens after they are stabbed by cruel killer 😿😿😿 pic.twitter.com/9Ct7s1SZvR
18/06/2016 20:20:22 WIB
Expand pic

jackie ferrie
@walkofhope99
@DailyMirror so sad how can there be so many horrible cruel people out there.innocent little babies that wouldn't of had the chance to even
18/06/2016 17:59:14 WIB

Mona ♡
@__Monnna
@Ab_ldn no why 😭 this is the saddest thing ever I'm so heartbroken💔😭😭
19/06/2016 13:54:04 WIB