Designers Clothing♥♔
@LeRs_291999
There is a metal called Galium that can melt in our hand.
26/04/2014 03:02:17 WIB

Fuck China! Democracy for Hong Kong!
@Sauteethesteak
Soooo my brother bought Galium and I am now waiting for it to melt. #mylife
12/06/2013 02:42:21 WIB
Gallium merupakan senyawa logam yang dapat meleleh ditangan kita karena titik didihnya yang sangat rendah

FAKTA WOW & BERITA INDONESIA
@WOWFAKTA
Gallium adalah logam unik yang bisa mencair di telapak tangan akibat titik leburnya yang rendah. pic.twitter.com/rad6UFUqeP
29/05/2016 21:41:42 WIB
Expand pic

Carlton Pasterino
@salad_akashi
Gallium, soft enough to melt in your hand, corrosive enough to burn aluminium pic.twitter.com/rwJd1cx7Yo
11/05/2016 20:26:59 WIB
Expand pic

RESCIEN 1
@rescien1
Galium adalah logam yang akan mencair jika Anda menggenggamnya karena titik leburnya yang sangat rendah (29,76 C).
30/05/2016 22:45:42 WIB

Dr Nozman
@DrNozman
Gallium, métal qui fond à 29°C pic.twitter.com/es7vWKRtu4
21/05/2016 19:31:02 WIB

Neha
@iNehaPandey
#Experience the mind-blowing #power of #science with #gallium in your #hands with it's low #melting_point property. pic.twitter.com/D08edear6C
23/04/2016 00:18:40 WIB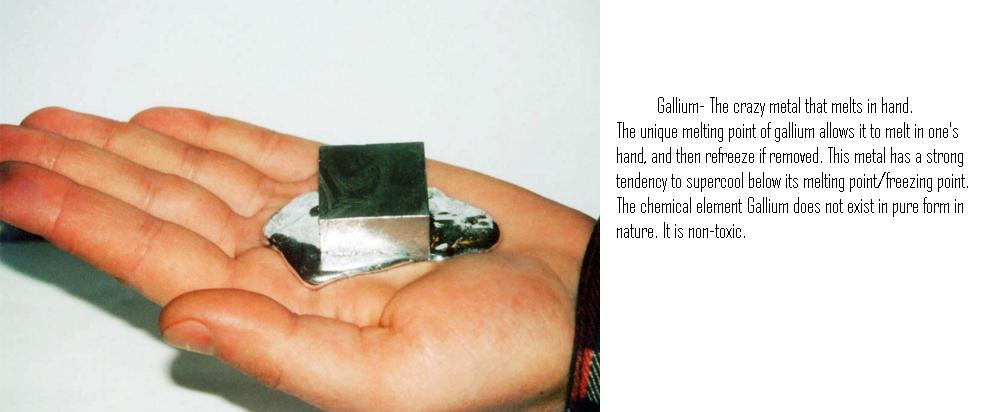 Expand pic