Anggota ISIS menyerang pertemuan supporter Real Madrid di Baghdad, Irak

URL
KOMPAS.com
ISIS Serang Pertemuan "Fans" Real Madrid di Irak, 14 Tewas - Kompas.com
ISIS menyerang puluhan pendukung klub Real Madrid yang berkumpul di sebuah kafe di kota Samarra, Irak. Akibatnya, 14 orang tewas dan puluhan lainnya terluka.

Cristiano Ronaldo
@Cr7Prince4ever
ISIS attacked the headquarters of Real Madrid supporter club in Iraq, killing 14 people and injuring 28 more. R.I.P. pic.twitter.com/EOrua5gHVZ
14/05/2016 01:06:55 WIB
Expand pic

Neymar Jr.
@Neymarvellous
My Prayers go out to the Real Madrid fans that died in Baghdad cause of a ISIS attack. #PrayForIraq #PrayForTheWorld pic.twitter.com/9CGzGzooJQ
14/05/2016 03:23:28 WIB
Expand pic
Dikabarkan 14 orang tewas dan 28 lainnya luka luka

Juan Velazquez
@JuanDirection57
Isis gunmen have killed 14 Real Madrid supporters at their headquarters in Iraq. RIP❤️⚽️ pic.twitter.com/n12XiL8tML
13/05/2016 22:16:35 WIB
Expand pic

Evanglista Sports Mp
@E_S_Maple
Tragedy. ISIS gunmen shot dead 16 #RealMadrid fans at a supporters club in Iraq because they 'don't like football'. pic.twitter.com/26lpIDLbNP
14/05/2016 00:36:15 WIB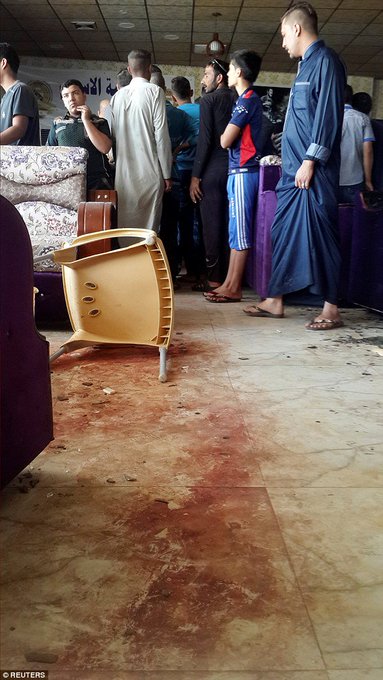 Expand pic


Leo Messi
@messi10stats
Today ISIS attacked a Real Madrid fan club in Iraq in which 16 people died and at least 20 are seriously injured RIP pic.twitter.com/WaLnBzUawo
14/05/2016 07:31:02 WIB
Expand pic

Richie Magnero Bryant ™️
@roxrichie
Isis kills real madrid fans this morning at a gathering club in Iraq. .now isis isn't just religious n political but also social.ridiculous!
13/05/2016 21:51:10 WIB

itsmeeei
@meiirisaicha2
Astagfirullah, sampe kapan...? :( "@kompascom: ISIS Serang Pertemuan Fans Real Madrid di Irak, 14 Tewas. kom.ps/AFvBos"
13/05/2016 23:44:35 WIB