Duh donald..
Paus Francis vs Donald Trump
Donald Trump memang selalu kontroversial dengan ide-idenya untuk "menjayakan" kembali Amerika Serikat. Salah satunya adalah ide untuk membangun Tembok Perbatasan untuk melindungi Amerika Serikay, terutama dari imeigran ilegal.

SkyNews
@SkyNews
Pope Francis criticises Donald Trump's views on immigration, saying they are "not Christian" trib.al/tjMvusE pic.twitter.com/rXbYigWt2S
19/02/2016 14:03:06 WIB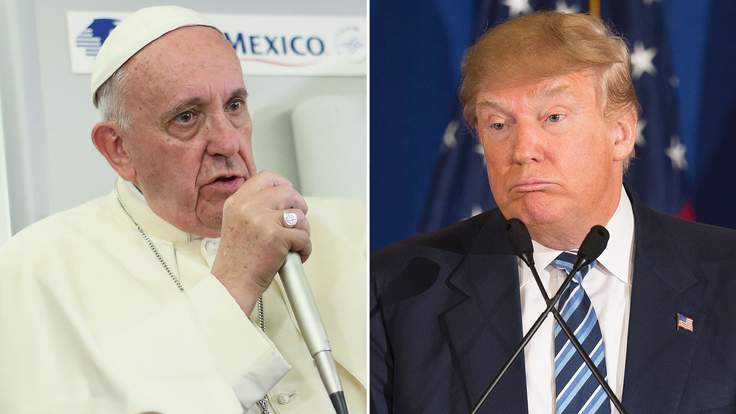 Expand pic
Paus Francis, dalam hal ini, berkata bahwa seharusnya membangun "jembatan" itu lebih baik daripada mendirikan tembok pemisah. Terlebih lagi, beliau mengatakan bahwa Donald Trump "bukan seorang Kristen".

So Mexican🇲🇽
@SOMEXlCAN
Pope Francis on Trump: "A person who thinks only about building walls, wherever they may be, and not of building bridges, is not Christian"
19/02/2016 14:02:05 WIB

New York Daily News
@NYDailyNews
An early look at tomorrow's front page: ANTICHRIST! Pope calls out hateful Trump - nydn.us/1VqVBRR pic.twitter.com/jcD2blddZ8
19/02/2016 09:02:58 WIB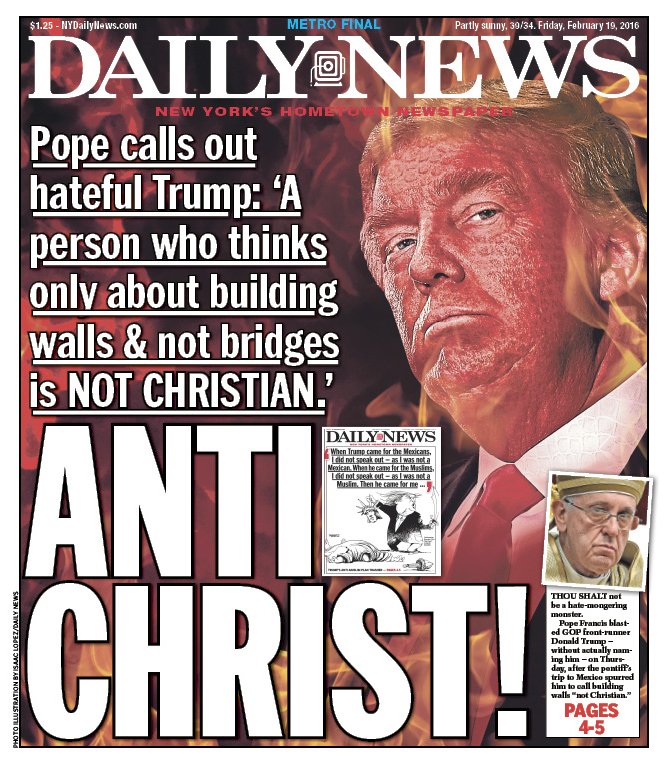 Expand pic
Tidak tinggal diam, Donald Trump memberi balasan dengan mengatakan bahwa Paus Fransis telah bersikap "memalukan".

BBC News (World)
@BBCWorld
VIDEO: Trump calls Pope comment 'disgraceful' bbc.in/20I0JT9
19/02/2016 13:49:07 WIB


Bloomberg
@business
Donald Trump hits back at the Pope's "disgraceful" remarks bloom.bg/24cuTSV snpy.tv/1QNhG9a
19/02/2016 14:23:58 WIB
Ada juga beberapa pendapat masyarakat di bawah ini yang membuat kita berpikir lebih tentang isu ini.

Zach Wolf
@zbyronwolf
Anderson - "You've been in fights with a lot of people, but I mean the Pope..." Trump suspects Mexican govt. influenced Pope. #GOPTownHall
19/02/2016 10:17:31 WIB

Dan Scavino🇺🇸🦅
@DanScavino
"The Vatican City wall, in all, measures 2 miles...surrounding 109 acres." tmz.com/2016/02/18/don… via @TMZ
19/02/2016 05:47:52 WIB
Semua ini adalah politik, kita tidak akan bisa dengan jelas mengetahui maksud dan tujuan dari politisi.