Anak lima tahun asal Afghanistan bertemu idolanya.
Bocah Afganistan dengan 'Jersey Kantung Plastik' bertemu Messi!

morgansatu
@morgansatu
The five-year-old Afghan boy who became Internet-famous last month — for a viral photo of… goo.gl/fb/YWnM1j
02/02/2016 11:07:08 WIB

Asif Khan
@Afghan_Military
The child who has become known as "Messi's biggest fan" is five-year-old Murtaza Ahmadi from my hometown. Cute! pic.twitter.com/XDZ2VNR41t
26/01/2016 23:44:59 WIB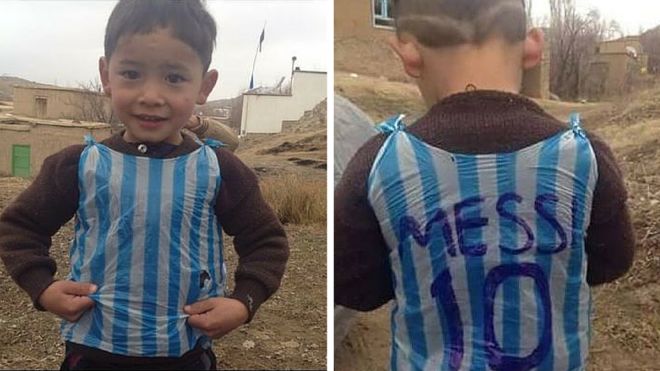 Expand pic
Seorang bocah Afghanistan berusia 5 tahun, Murtaza Ahmadi, menjadi terkenal di internet akibat 'Jersey' kantung plastiknya

Khaleej Times
@khaleejtimes
His family couldn't afford a #Messi shirt, so his brother made it from a plastic bag instead bit.ly/1P3xhkK pic.twitter.com/m83WdOzXTl
30/01/2016 17:47:15 WIB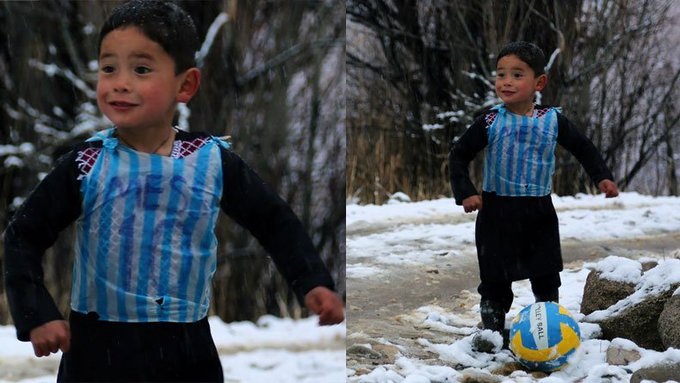 Expand pic
Keluarganya tidak mampu membelikannya Jersey, lalu kakaknya membuatkan 'Jersey' yang terbuat dari kantung plastik.


Al Jazeera English
@AJEnglish
Afghan boy in Messi bag shirt excited after Barcelona star expressed interest in meeting him aje.io/rp47 pic.twitter.com/axvEjQiMIM
01/02/2016 19:36:26 WIB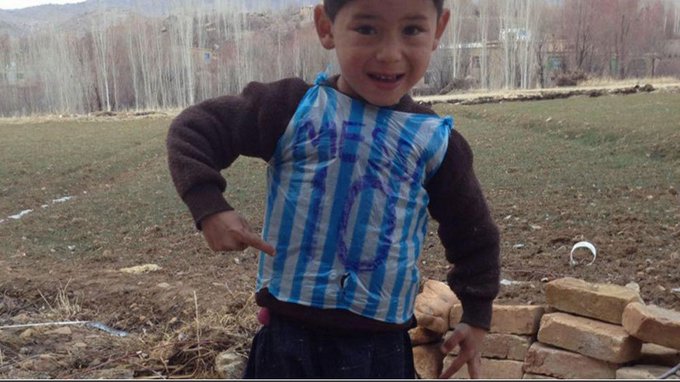 Expand pic

detikcom
@detikcom
Messi Akan Temui Bocah Afghanistan yang Pakai Jersey Kantung Plastik de.tk/67UFja via @detikSport pic.twitter.com/cEjaZxtmGk
02/02/2016 11:04:24 WIB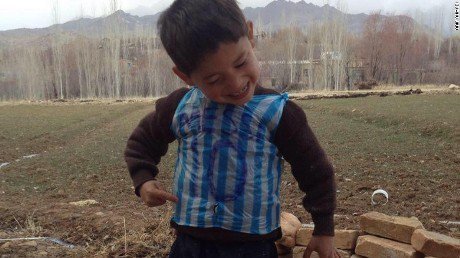 Expand pic
Setelah menjadi sorotan media, Asosiasi Sepakbola Afghanistan mengungkapkan adanya kemungkinan mempertemukan Murtaza dengan idolanya, Lionel Messi.

afia salam
@afiasalam
Passion... will get you to places! What a lovely story from #AlJazeera fb.me/3YbiZoZ4W
02/02/2016 11:10:32 WIB

You can call me Rhonda
@ThisAndThatYEG
The world can be a beautiful place 💞 Young Afghan boy with Messi jersey made of plastic bag will meet his idol globalnews.ca/news/2490022/y…
02/02/2016 11:16:39 WIB