Chirpified
Renault Megane itu sudah terparkir dekat pantai di Caorle, Italiaselama beberapa hari dan penyebab melelehnya bagian mobil dipastikan murni karena cuaca panas (sekitar 37 derajat Celcius)

URL
Mail Online
Incredible moment a car MELTS in the sun during heatwave in Italy
John Westbrook said he was astonished when he saw the Renault Megane dripping as it was parked opposite a beach in the coastal town of Caorle in northern Italy, as temperatures hit 37C.

Mark Boardman
@StormHourMark
It's hot enough in Italy to melt a car. Glad I'm in England. bit.ly/1h0Yb33 pic.twitter.com/l5C8yBuLDz
12/08/2015 04:47:22 WIB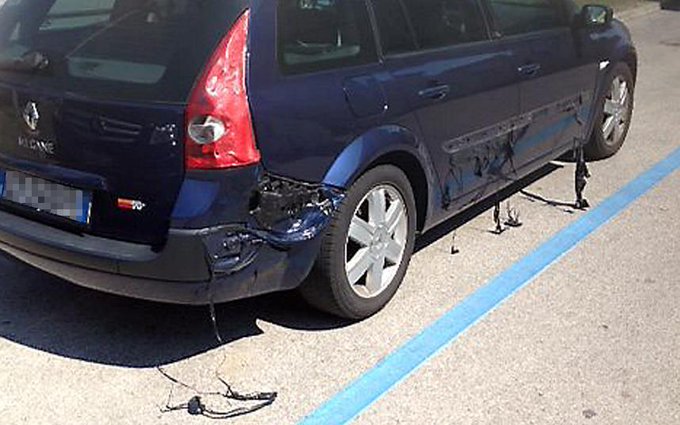 Expand pic

Laura Tobin
@Lauratobin1
The #heatwave in Europe continues, it's so hot that cars are melting in Italy! #crazy @gmb express.co.uk/news/uk/597437… pic.twitter.com/DNm7WWIm6m
12/08/2015 12:46:37 WIB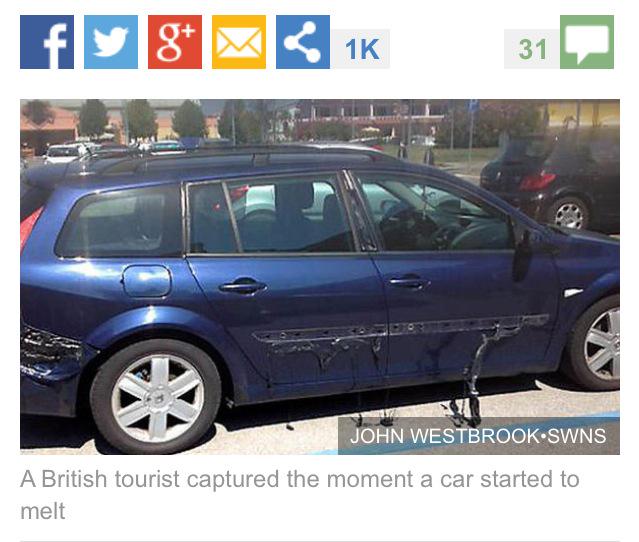 Expand pic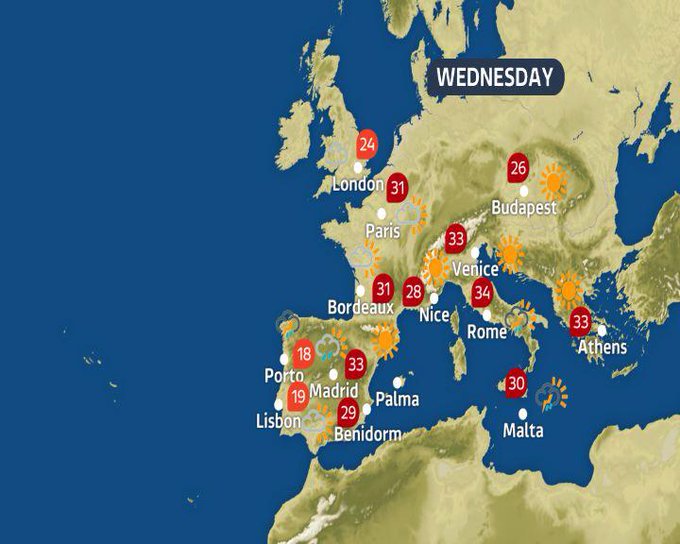 Expand pic

Tony Stamp
@StampTs
@Lauratobin1 @GMB cars didn't melt in 1976,that's cheap plastic for you
12/08/2015 12:47:52 WIB

J an unexpected key worker.
@james_jackson01
@Lauratobin1 @GMB blimey! Well in that case I won't moan about our weather! Imagine walking out to your car and it's melting. ..!!
12/08/2015 12:59:36 WIB


John Horne
@johnhorneartist
@Lauratobin1 @GMB Wow cars are melting Laura that's certainly hot temp to do that. like your Barge sceneat Stoke Brueme, make great painting
12/08/2015 13:00:51 WIB

Tracy Fitz
@TheFitzie
@Lauratobin1 @GMB we are in Mazarron Spain, it's was 40 degrees yesterday 😎 #heatwave #holibobs #sealikebath pic.twitter.com/YYoYjhp8eV
12/08/2015 13:18:15 WIB
Expand pic
Expand pic